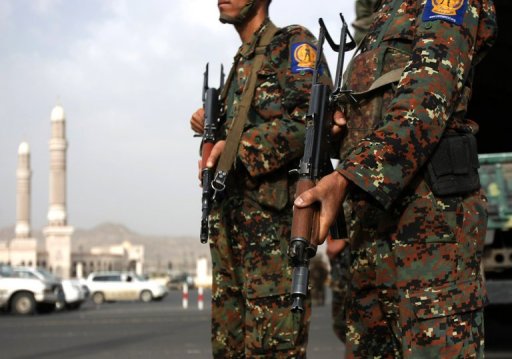 Masked gunmen shot dead a Yemeni security chief on his way to work at the US Embassy in Sanaa on Thursday, in an attack a Yemeni security source said appeared to be the work of Al-Qaeda.
The incident was the latest of a wave of attacks on officials in the impoverished Arab state, which is battling Islamist militants with Washington's help.
The attackers, on a motorcycle, opened fire on Qassem Aqlan — who headed an embassy security investigation team — near his house in the center of Yemen's capital, the source told Reuters.
"This operation has the fingerprints of Al-Qaeda which carried out similar operations before," said the source, who asked not to be named.
Yemen-based Al-Qaeda in the Arabian Peninsula (AQAP) and other militant groups strengthened their grip on parts of the country during an uprising that ousted veteran President Ali Abdullah Saleh in February.
Washington, wary of the growing power of Al-Qaeda, has stepped up drone strikes on suspected militants, with the backing of Saleh's successor, President Abd-Rabbu Mansour Hadi.
Fahad, a neighbor of Aqlan's, said he had noticed strangers roaming the streets over the past three days, suggesting Aqlan was being watched before the attack.
"Once he [Aqlan] stepped out of his house the men shouted his name and when he replied, they shot him in the head and neck," he said.
Aqlan, who was in his fifties and had worked at the embassy for more than a decade, was responsible for coordinating security information between the US embassy and the Yemeni authorities, the source added.
He had been involved in the investigation into the attack last month on the US embassy by protesters angry over an anti-Islam film made in the United States.
"We are aware of the reports of this tragic incident and our embassy in Sanaa is working with the Yemeni authorities," Bernadette Meehan, a spokesperson for the White House National Security Council, said in Washington.
A senior State Department official said: "We are deeply saddened by this tragic incident involving a Yemeni employee of our embassy."
There have been a number of killings and assassination attempts on security officials and politicians since Yemen's army drove Islamist fighters out of several southern towns earlier this year.
Last month Abdulilah Al-Ashwal, a senior intelligence official, was killed in a drive-by shooting in Sanaa.
Restoring stability in Yemen has become an international priority due to fears that Al-Qaeda could become further entrenched in a country which flanks oil producer Saudi Arabia and lies along major international shipping lanes.
AQAP, regarded as Al-Qaeda's strongest regional wing, has mounted operations in Saudi Arabia and tried to launch attacks against the United States.