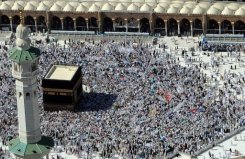 The number of Egyptian deaths in the Hajj stampede has risen to 146, while the number of missing pilgrims is at 92, according to a statement made on Monday by the Egyptian Consul General in Jeddah, Adel al-Alfy. He added that 11 people were still receiving treatment in Saudi hospitals.
Egyptian diplomats in Saudi Arabia held a meeting in Mecca on Sunday with the Egyptian Hajj mission officials to follow up on the latest developments. These include information on the dead, injured and missing pilgrims, according to the statement.
The Egyptian Consulate's task force is still fielding calls from the victims' families, both within and outside Saudi Arabia, who have yet to receive information on their loved ones.
The consulate is presently coordinating with the Saudi Health Ministry and the Saudi Interior Ministry to collect information on the victims, Alfy mentioned.
Edited translation from Al-Masry Al-Youm