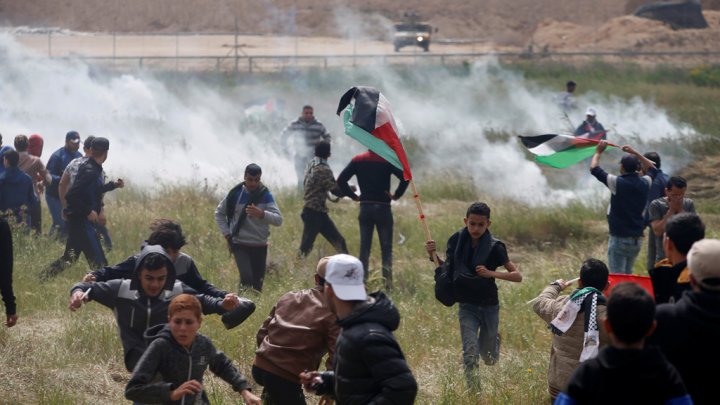 A senior member of Hamas' political bureau said during a TV interview on Wednesday that 50 people killed by Israeli soldiers during clashes in Gaza on Monday were members of Hamas.
Salah al-Bardaweel was responding to suggestions from the interviewer that Hamas, the militant group that runs Gaza, was sending other people to die in the protests.
"In the last round [of demonstrations] 62 people were martyred; 50 of them are from Hamas and 12 from the people," al-Bardaweel replied, adding, "I am telling you, these are official numbers."
Israeli officials have seized on the comment as supporting their position that the demonstrations at the fence separating Gaza from Israel are directed by Hamas.
Hamas spokesman Abdel Latif Quanau, in a phone conversation with CNN, would not confirm or deny the number of fatalities linked to Hamas.
"I do not have specific numbers but all the factions have participated in the demonstrations, and they are all being targeted," Quanau said.
He added, "The protests are peaceful and include all political and military factions. The Qassem Brigade, Hamas, Islamic Jihad, and all the factions, are a part of the Palestinian people. When the people decided to move, all the people of all the different factions moved with them. And just as [the various factions] pursue military resistance, they also pursue peaceful resistance."
Ahmed Abu Artema, widely credited as the person who brought the latest wave of demonstrations into being, cast doubt on Hamas' claims.
"I personally doubt the number," he told CNN in a phone conversation. "This is rhetoric, I don't believe [al-Bardaweel] has confirmed the number; the reporter provoked him with his question."
But, he added, "even if the number was right, the [political and military] factions are a part of our society."