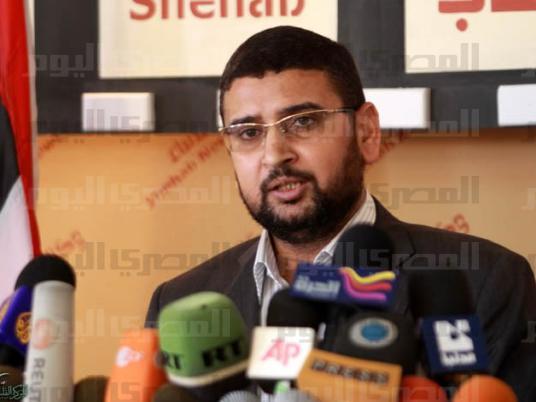 Hamas has renewed denials it played a role in attacking prisons at the height of Egypt's January 25 revolution, just hours after a former minister blamed the Palestinian resistance movement for the 2011 prison breaks.
Hamas spokesperson Sami Abu Zuhri was quoted by Turkey's Anadolu news agency as saying the accusations posed a "political game in Egypt which thrusts Egypt into disputes" after former Interior Minister Mahmoud Wagdi implicated Hamas during a court testimony.
"Statements by the former interior minister, and his accusations that Hamas broke into Egyptian prisons, are baseless and empty," Abu Zuhri said. "Hamas had nothing to do with the events in Egypt, including the invasion of prisons and the release of Palestinian and Egyptian detainees by the Muslim Brotherhood."
The 2011 prison assaults at facilities in Marg, Abu Zaabal and Wadi al-Natrun allegedly allowed several incarcerated Islamist leaders from Hamas and the Muslim Brotherhood, including Egypt's now-President Mohamed Morsy, to flee.
On Saturday, the Ismailia Appeals Court resumed its investigations into escapes by 34 Hezbollah, Hamas and Muslim Brotherhood members from Egyptian jails.
Wagdi, who took the Interior Ministry post following a cabinet reshuffle during the revolution, told judges that Hamas and Hezbollah militants infiltrated Egypt through a system of underground tunnels in North Sinai.
Islamists then headed to Marg, Abu Zaabal and Wadi al-Natrun with the expressed purpose of freeing prisoners, he claimed.
Following prison breaks, former inmates fled to the Gaza Strip and were celebrated on a number of satellite channels, confirming earlier reports by State Security Investigation Services and Public Security Forces, Wagdi alleged.
The former interior minister also cited a report sent by Egyptian diplomats in the West Bank capital, Ramallah, to former assistant Interior Minister Mohamed Ibrahim Hegazy, which reported a number of vehicles carrying Egyptian police and government license plates being found in Gaza.
Wagdi denied suggestions Egyptian authorities were responsible for releasing inmates during the revolution.
Edited translation from Al-Masry Al-Youm