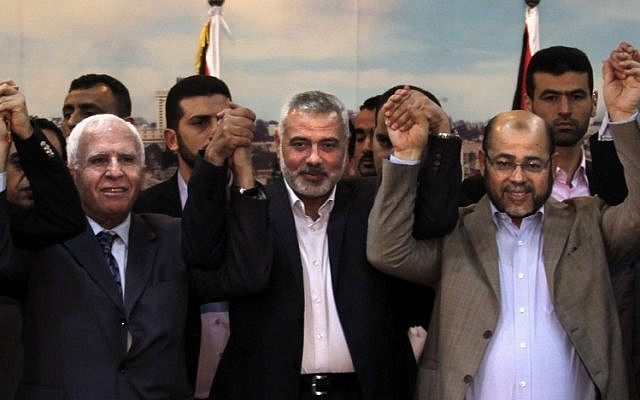 A top-level Hamas delegation, including the group's head Yahya al-Sunwar, arrived to Egypt Saturday to discuss national reconciliation between themselves and the Palestinian Fatah movement.
Al-Sunwar and Hamas political chief Ismail Haniyeh will also hold talks with Egyptian officials on the mechanisms of allowing entry to Egypt through the Rafah crossing, in addition to bridging the gap between the two rival Palestinian movements, the group's spokesperson Fawzi Barhoum, said in a statement.
Haniyeh, newly elected as head of the political bureau in May, will discuss ways of reinforcing understandings between Hamas and Egypt that were reached during the group's previous visits to the country and ways of trying to ease the blockade imposed on Gaza strip, Hamas affiliated newspaper al-Resalah reported.
A source in Hamas informed Palestinian media outlets that the delegation also includes deputy head of Hamas Khalil al-Hayya, deputy head of the political bureau, Mossa Abu Marzouq, and prominent leader Rouhi Moshtah.
It is not clear if leaders belonging to the former Fatah head Mohammed Dahlan's current will join the meetings in Cairo or not, the source said. The delegation will probably also visit Qatar, Turkey, Lebanon and Iran following its meetings in Egypt, the source added.