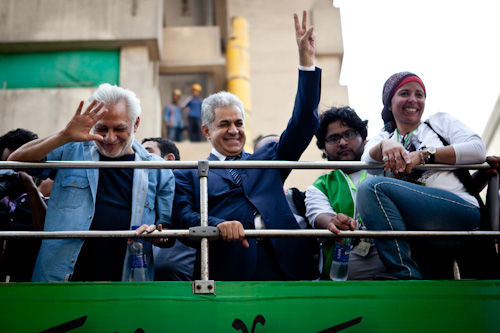 ALEXANDRIA — With Hamdeen Sabbahi's posters plastered on their backs and his photos held high above their heads, scores of youth, men and women marched through the coastal city of Alexandria on the last day of campaigning in Egypt's landmark presidential election.
"There needs to be new, young blood ruling this country," says Hoda Abdalla, a 47-year old mother who marched with her teenage daughter and her best friend.
"Moussa and Shafiq are not only remnants of the old regime, but they have surpassed their time. [Sabbahi] is a man who has been an activist for years, he has political experience and we believe he can stand up to the Supreme Council of Armed Forces and any members of the previous regime," Abdalla says, waving the candidate's picture at passing cars.
Over the past months, Sabbahi's campaign branded him as "One of Us." The down-to-earth Nasserist, who was jailed several times for his political dissent under Hosni Mubarak's regime, can be found shaking hands with workers in rural Upper Egypt or praying with the working class at local mosques.
According to local polls, which are only considered partially reliable, Sabbahi's star has risen in recent weeks and he is now considered one of the frontrunners in the race. Elections are set to take place on 23 and 24 May, with a likely run-off on 16 and 17 June.
Sabbahi has gained momentum over the past weeks using charm, humility, and promises of social justice, which some voters feel that other candidates have failed to address, despite the revolution's resonating calls for bread, dignity, and freedom. Adhering to Gamal Abdel Nasser's dreams of Arab nationalism, the long-time pro-democracy advocate captured the hearts of many Egyptians who are about to vote in the first election since Mubarak was ousted early last winter. He is becoming the "revolutionary" choice for many voters.
As Egyptians reexamine the way they view politics after last year's uprising, Ziad Akl, a political analyst at Al-Ahram Center for Political and Strategic Studies, believes that the majority of voters will focus on two aspects, rather than a detailed program: a candidate's history and their stance toward Mubarak over the years, as well as the candidate's persona and his fluency when addressing issues of poverty and security, which are priorities for the average Egyptian voter.
Also a journalist and founder of the Nasserist Karama (dignity) party, Sabbahi has shown that he is secular, yet religious and socialist, yet supportive of a free market.
"All candidates are reciting textbook material; there is no real cause being addressed here, unlike the recent Greek elections, for example, in which candidates focused on criticizing austerity measures," says Akl. "Sabbahi focused on the idea of the persona; he's running on a platform that says 'I'm not full of myself,' and this is how a president should be."
Sabbahi has managed to gain the support of many in Egypt's working and middle class during a short period of campaigning with minimal funding.
"He really is one of us, and it's enough that he's been jailed so many times for speaking out against the corruption of Mubarak," says Mohamed, a middle-aged taxi driver. "This man is clean and he has no problem standing up for our rights. We've seen enough for the past 30 years and this is the man for the job."
Sabbahi supporters say that he is the ideal choice for those who are opposed to Islamist candidates, but refuse to vote for someone affiliated with Mubarak's regime. The other frontrunners in the election are Amr Moussa, Mubarak's former foreign minister; Ahmed Shafiq, Mubarak's last prime minister; Mohamed Morsy, the Muslim Brotherhood's candidate; and Abdel Moneim Abouel Fotouh, a former Brotherhood leader.
"There is a middle ground in Hamdeen Sabbahi," Akl says.
"Abouel Fotouh is a reformer, but he is still Islamist to some people, and if you are comparing Sabbahi with Shafiq or Moussa, these two candidates are part of the institution. Moussa, for example, can easily bring back the old regime because he is part of the institution and he can reform the institution if something goes wrong because he's a statesman," he explains.
Although both Abouel Fotouh and Sabbahi were dissidents against the previous regime, Sabbahi offers a way out for voters of all political ideologies, unlike Abouel Fotouh, who is widely criticized by liberal and secular voters for being a member of the Muslim Brotherhood's Guidance Bureau from 1987 to 2009.
By focusing on the two important themes of being against the previous regime and making people feel like he is just an ordinary citizen, Sabbahi was able to gain momentum and position himself as the rising star of Egypt's presidential race.
"The revolutionary part of me is supporting Hamdeen Sabbahi. He is for the revolution, and that is the dream, because someone like Sabbahi should be in power after this revolution," says Dalia Ziada, a young Egyptian liberal who is also the director of Ibn Khaldun Center for Democratic studies.
But, Ziada says, there is a danger in Sabbahi. His adherence to Nasserist ideology raises questions about Nasser's legacy — an authoritarian rule that imprisoned and killed opponents and gave the military sweeping powers in the state.
"This era is what started authoritarian rule in Egypt, and with Sabbahi's position against Israel, we may enter into an international relations crisis. This is scary to me," Ziada says.
On the other hand, Akl points out that what happened in 1952 was a product of historical and social issues, and there is "no going back."
While some will say Sabbahi's attachment to Nasser could make him an impractical candidate, others argue that his association with Nasser is actually contributing to his rising popularity.
Since 1956, people have continued to fall in love with Nasser, overlooking any political mistakes he may have made.
According to Akl, as Sabbahi upholds Nasserist views, he's attracted millions of supporters, young and old, who still live in awe of the Egyptian army.
"There is no touching the military, they've secured their position over the past 15 months or so," says Akl. "In Egypt, there has always been respect and pride in the Egyptian armed forces. Sabbahi also looks at it this way; supporting the armed forces is an issue of pride; this is very much postcolonial," Akl adds.
Sabbahi's supporters, however, believe otherwise. Many revolutionary youth, who consider themselves "liberals," feel that Sabbahi looks up to Nasser while admitting that the charismatic ruler made some mistakes when he served as president from 1956 to 1970.
"Sabbahi brings together a free economy with a social justice approach that allows for a process of securing rights for those who are less fortunate," says Ahmad Hassan, a 23 year-old voter who is also part of the Talaat Harb Group, a revolutionary group of liberal activists.
Hassan, a young entrepreneur who strongly favors a free-market economy, told Egypt Independent that he knows Sabbahi will not win. However, the struggle for Egypt to adopt a socialist platform with components of social justice attached to it is the real issue.
"He probably will not win," Hassan said with disappointment. "But, the fact that he is clearly gaining momentum means that his views are being taken seriously and his cause will be heard. I mean, this is a guy who is talking about eliminating poverty over the next eight years."
Randa Ali, a young feminist activist who is a member of the Revolutionary Socialists youth movement, believes that Sabbahi is realistic in his approach to reshaping Egyptian politics.
"I'm not an economic expert, but what I am sure of is that Egypt has a lot of resources which have been robbed over the past years and I have confidence that Sabbahi will know how to retrieve them."