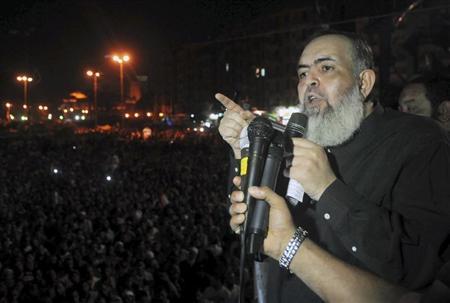 Cairo Criminal Court upheld the sentence previously issued in absentia against Ahmed Arafa, a member of the Hazemoun group that supports the now-detained Salafi preacher and former presidential candidate Hazem Salah Abu Ismail, on charges of possessing a firearm and ammunition without a license.
Arafa was also charged with forming an armed terrorist organization called "Ahrar," along with six others. The defendants testified that it wasn't a terrorist group but a movement aiming to "counter military rule, calling for the return of civilian rule with an Islamist reference."
Arafa faced retrial after he was caught by the police.
He was initially arrested on 19 December of last year in Nasr city, while in possession of an automatic weapon and shots. He was referred to prosecution, which released him pending the case.
The case was then referred to court and he was sentenced to life imprisonment in absentia until he was arrested again and retried.
Edited translation from Al-Masry Al-Youm