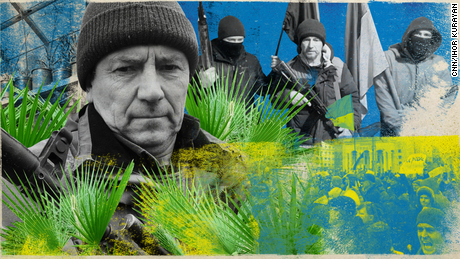 Before the war broke out, Igor Kurayan, a 55-year-old from the southern Ukrainian port city of Kherson, shared frequent gardening updates on social media. His feeds were full of palms, pomegranate trees, marigolds, bamboo and avocados, grown at his home and small business near the Black Sea. He called it his "fairytale garden."
On Feb. 25, a day after Russia invaded Ukraine, Kurayan posted a selfie on Instagram with a rifle, announcing he had volunteered to fight in the Territorial Defense Forces, reserve units of Ukraine's military.
Soon after, Kherson fell to Russian troops and in early April, after weeks living under and protesting against their occupation, Kurayan was abducted. He was watering plants in his shoe store when he said Russian soldiers dragged him outside and threw him into a van.
Soon after Kurayan's kidnapping, his Facebook and Instagram pages, and a new TikTok account registered under his name, began posting messages entirely out of character for the man known to family and friends as a proud Ukrainian, a passionate activist and avid gardener.