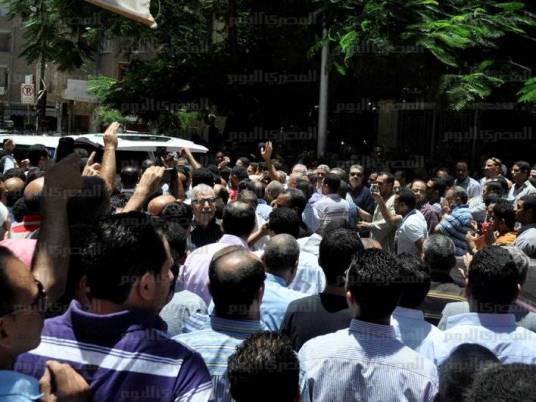 Clashes between supporters and opponents of ousted President Mohamed Morsy have left 52 dead and 2,619 more injured, according to the latest figures released by Egypt's Health Ministry.
The ministry said the clashes that broke out in the run-up to the 30 June mass protests left three dead in Daqahliya, two in Alexandria, one in Sharqiya, and another in Port Said, while 703 were injured nationwide.
On 30 June, which saw vast demonstrations calling on Morsy to stand down, 16 people died in Cairo and other governorates, mostly in clashes in front of the Guidance Bureau of the Muslim Brotherhood in Moqattam. 781 people were injured, widely cited as the turning-point in the week's unrest.
Nine died in Cairo, eight of whom perished outside the Brotherhood's Moqattam headquarters. One person died outside the Ettehadiya presidential palace, three in Assiut, and one in each of Beni Suef, Alexandria, Kafr al-Sheikh, and Fayoum.
Violence in Giza's Bein al-Sarayat neighborhood on Tuesday evening saw 18 people killed and 619 injured, the largest casualty rate since the unrest began.
After the armed forces removed Morsy, 11 people were killed and 516 others were injured, of whom 362 are still receiving medical treatment. 154 people have since been discharged from hospitals nationwide.
Thirty-six people were injured in Cairo, of whom 12 were released from hospitals. 24 are still being treated in hospitals in Kasr Al-Ainy, Mansheyet Al-Bakry, Nasr City, and Al-Zahra.
Dr. Khaled al-Khatib, head of the ministry's Central Department for Emergencies, said 64 were injured in the Sidi Gaber clashes in Alexandria on Wednesday evening, 62 in Fayoum, 38 in Daqahliya (all of them since discharged), 75 in Damietta, 130 in Kafr al-Sheikh, 25 in Gharbiya, two in Aswan, one in Qena, five in Ismailia, 15 in Minya, 17 in Matrouh, and seven in Sharqiya.
He also said 11 people died in Wednesday's clashes.
Edited translation from Al-Masry Al-Youm