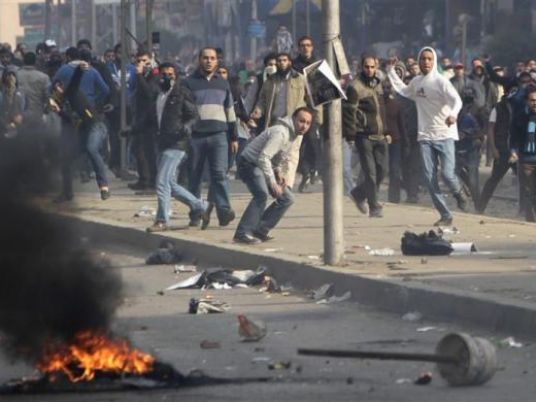 Health Ministry's Media Adviser Ahmed Kamel said clashes between security forces and Muslim Brotherhood in Cairo and governorates on Friday left one killed and another five injured.
Four persons were injured in Cairo, one was injured in Fayyoum and one was killed in Minya, Kamel told Al-Masry Al-Youm.
Brotherhood group staged protests in Cairo and other governorates on Friday commemorating six months after dispersal of its sit-ins staged in mid-August at Rabaa al-Adaweya and Nahda squares.
In related news, Interior Ministry's information center said on Friday, the Brotherhood elements in Tabl village in Damietta staged march and clashes with residents.
"Clashes resulted in death of 42-year old citizen Osama Ahmed Farahat. Security services identified the criminal, a Brotherhood member, 29, carpenter living in the same village. He was holding 15 Molotov cocktails ready for use and other edged weapons. Other participants in the march were arrested," the ministry said in a statement.
"Several Muslim Brotherhood members staged march on Friday in Samallout town in Minya. They fired bullets and bird shots to intimidate citizens who clashes with them, causing injury of 12-year old child called Arafa Saudi, who was standing at the balcony. He then died," the statement added.
"Security services arrested three participants. One of them was in possession of bird shot. The family of the child accused the Muslim Brotherhood of killing their son. Legal measures were taken."
Edited translation from Al-Masry Al-Youm