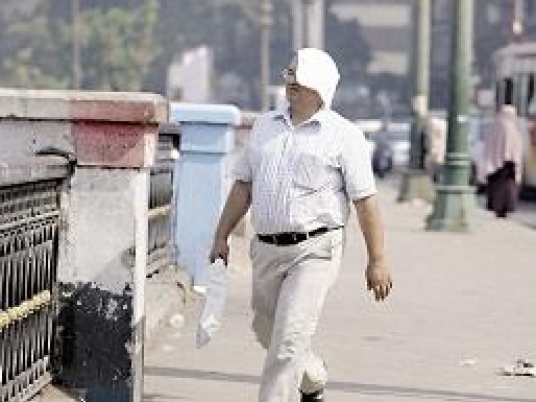 The Egyptian Meteorological Authority (EMA) predicts the heat wave throughout the country to recede by the end of today and that temperatures will gradually decrease by one degree per day from tomorrow, Monday.
The temperature in Cairo today is at 40°C
Chairman of the Board of Directors of EMA, Ahmed Abdel-Aal,  reiterated his advice, on Saturday, to not expose yourself to direct sunlight for long periods of time.
Egypt has witnessed waves of increased temperatures since the start of the summer, and meteorologists have hypothesized it is due to the Indian monsoon low pressure which affects Egypt every summer as well as makes it hot and humid.
The second heat wave to hit Egypt this summer was on Friday, now expected to end tomorrow. Weather temperatures increased during this wave from 3 to 5 degrees above the usual temperatures.
The weather is reportedly nice along the North Coast, with maximum temperatures of 32°C in Alexandria. Highs for the following cities are as follows Qena: 43°C, in Luxor: 44°C, and in Aswan: 44°C.
Edited Translation from Al-Masry Al-Youm