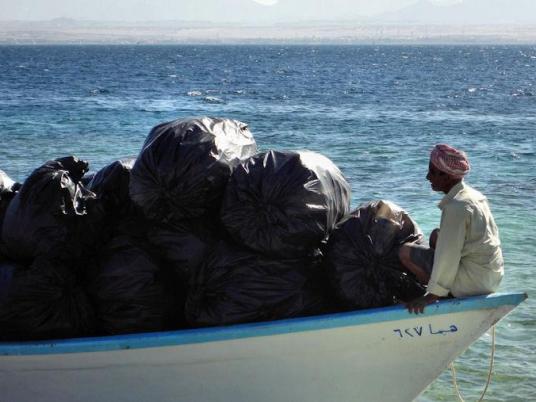 An Egyptian NGO is mounting an expedition to clean up the almost inaccessible Abu Monkar Island near Hurghada, to mark today's annual global Earth Day celebrations.
About 60 community members will boat out to the sandy island with rubbish bags, gloves and a few gallons of sunscreen, under the Hurghada Environmental Protection and Conservation Association NGO's leadership. On the mainland shore, a further 350 community members will be applying much-need tender loving care to the Red Sea coast.
Thirty organizations, including dive centers, hotels and schools, have jumped on board the cleanup effort, and more volunteers have signed on this year than in 2011.
"All rubbish disposed freely, whether that is on a sea or land, stays there until somebody picks it up, but in the meantime it might cause irreversible damage to the marine and the land life. That is why we have asked so many local businesses to participate, as they can see better what has to be cleaned and where in their areas," the association's project manager, Joanna Fotyga, told Egypt Independent.
"I believe that any event that causes more good than harm is a successful event. Even if one person starts to clean their own doorstep and others see it, it is a success as it influences thought, and then hopefully an action," she says.
While the cleanup on Abu Monkar is the only event that the Hurghada conservation association is taking full control of, they have also encouraged local businesses to participate in Earth Day by offering a free banner to advertise their efforts to the locals, as well as assistance filling in the participation forms.
Held every 22 April for the past 42 years, Earth Day has about 1 billion participants around the world. It is the largest global act of civil observance, its website claims.
For most, participation consists of putting rubbish in the bin. Communities tend to organize to meet and clean up neighborhood streets, parks, ditches, abandoned lots, beaches and deserts. Aside from dredging rusty cars from rivers, participation is also meant to instill good environmental practices. Citizens learn what happens to rubbish that has been dropped out of sight and out of mind.
"We do not have any support from the governmental bodies, as it was not what we were looking for when planning the campaign. The main objective of this campaign is to educate and influence the local community for sustainable practices within the environment. Local businesses must know about the impact environmental negligence has on our neighborhoods," Fotyga explains.
Founded in 1992 by representatives of the diving community, the not-for-profit association is now one of Egypt's largest environmental NGOs. It works closely with the Egyptian government and has recently been made solely responsible for Solid Waste Management in Hurghada and Marsa Alam. Hurghada alone produces an estimated 300 tons of daily waste.
After this Earth Day, the association hopes more of that waste will end up in its red-and-white dump trucks instead of in the Red Sea.