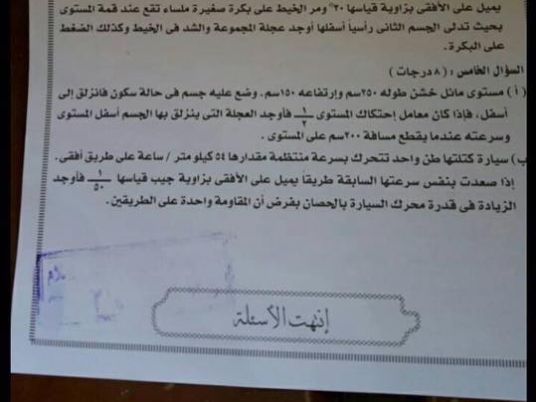 The high school dynamics examination was leaked online for the second time on Saturday, 22 minutes after the exam had started.
The exam, one of the papers on the mathematics curriculum, was published on the webpage "Shawming Byghashish Thanaweya Amma" (Shawming's cheats for high school exams) on the social network, Facebook; a page which aims to undermine the education system by facilitating cheating in public exams.
The Shawming page administrators announced that they had posted the answers to the exam at 9.22 a.m. on Saturday, followed shortly after by the question paper.
Saturday signaled the resit of the dynamics exam, which was cancelled last Sunday after being leaked online by the same webpage.
"Shawming Byghashish Thanaweya Amma" is the culprit behind a succession of leaks over the course of this exam season.
Despite the arrest of the notorious Facebook page's alleged administrator earlier last month, the page has been linked to the circulation of several exam papers since.
Hundreds of high school students staged protests over the course of last week demanding the dismissal of Education Minister al-Helali al-Sherbeni.
Spokesman for the Education Ministry Bashir Hassan said during a TV show last week that calls for the resignation of Egypt's education minister are limited in scope, meaning that he is unlikely to resign over the current high-school exam leaks crisis.
Dismissing the education minister will not solve the problem, Hassan said on the show, saying that the leaks will continue regardless of who heads the ministry unless and until the culprits are brought to justice.
The Thanaweya Amma refers to the final years of high school, which students attend between the ages of 17 and 18, and is a crucial educational stage in Egypt. A student's score in the examinations can determine whether they are admitted to a free public university and what course they are able to study.
Authorities have worked to maintain consistent examination standards over the past few years, despite the political, economic and social turbulence of post-Mubarak Egypt. During the security void following the January 25 revolution, the armed forces transported exam papers using armored vehicles and helicopters.
Edited translation from Al-Masry Al-Youm