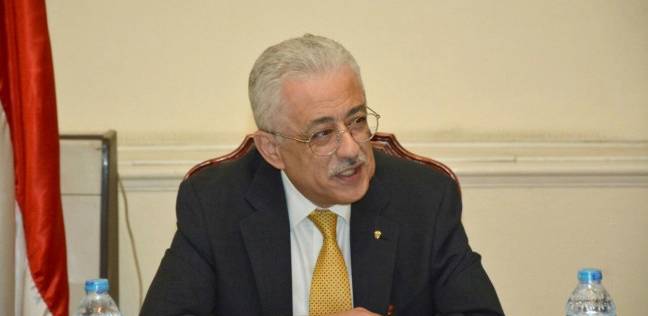 Education Minister Tareq Shawqi said Wednesday that he had presented the statistics of the Thanaweya Amma (high school) examinations to the Cabinet. He pointed out the results of the new examination system showed a 99.9% success rate and the phenomenon of cheating occurred but did not exceed 2,000 cases.
During a press conference, after announcing the results, Shawqi added that this success was due to government institutions' cooperation with the state agencies. He said that the marking of exam papers within the high school was done accurately and figures had returned to the previous years' rates.
In a separate statement, the Education Ministry said that no student at the high school received the full mark, nor 100 percent.
The percentage of students that received a total grade of 95 percent to less than 100 percent was 10.98 percent compared to the 15.88 percent in 2016.
The percentage of those with a total grade of 90 percent to less than 95 percent was 16.81 percent compared to 18.07 percent in 2016.
Thanaweya Amma refers to the final years of high school — as a crucial educational stage in Egypt whereby students' scores in examinations determine whether they will be admitted to a free public university as well as what course they will be able to study.
592,474 students took The Thanaweya Amma (high school) examinations this year under the new the 'Booklet' system, which includes the questions and answer papers together.
The new system was designed to eliminate the risk of exam leaks by requiring students to submit their answers on the question sheet, as opposed to the previous system where answers were submitted in a separate sheet.
However the Facebook page "Shawming Byghashish Thanaweya Amma" (Shawming's Cheats for High School Exams) could leak some exams.
The Shawming Facebook page has been publishing leaked examination papers for almost five years and so far the administrators have evaded capture, despite the efforts of Education Ministry officials and the police.