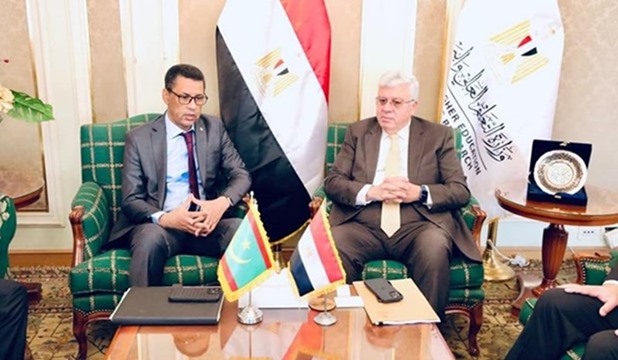 Minister of Higher Education and Scientific Research Ayman Ashour asserted on Monday the importance of implementing directives of the political leadership to offer required support and necessary facilitations to Mauritanian people in order to benefit from Egypt's experiences in the education and research domains.
Ashour's remarks came at a meeting with Mauritanian Minister of Higher Education and Scientific Research Mohamed Lemine Ould Abey Ould Cheikh al-Hadrami on the sidelines of a visit by Mauritanian President Mohamed Ould Cheikh al-Ghazaouani to Egypt.
The visit is part of efforts to enhance historical and profound relations binding Egypt and Mauritania and foster bilateral cooperation in the different fields.
The minister said Egypt is always welcoming promotion of its ties with Mauritania.
In turn, the Mauritanian minister commended tangible development in Egypt in general and its educational institutions in particular at the era of President Abdel Fattah al-Sisi.
He said his country is looking forward to developing cooperation with Egypt in high education area.