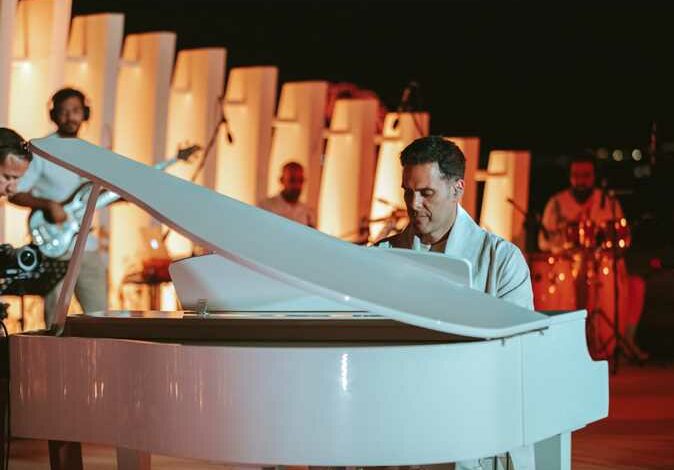 Egyptian musician Hisham Kharma will give a concert at July 26 at eight pm on the open stage at the Cairo Opera House.
Kharma will present a collection of his unique songs which combined eastern and western instruments, including – "Andalus", "First Voyage", "Kun", "Hope", "Valley of the Kings", "Al Hekaya" , "Quest", "Al Iman Wal Asr", "Marrakech", "Al Bedaya", and others.
A pianist, author, and music arranger, Kharma has hosted many successful concerts in various cultural places, composed patriotic tunes, and participated with Egyptian poets and singers, including Hisham Algakh, Hani Adel and Bushra.
He recently composed the soundtrack for "Mako", the first Egyptian movie to be filmed underwater. He also composted the music for the "al-Nehaya" (The End) TV drama.
The famed composer has participated in many international and local artistic concerts alongside other talented musicians.
In 2018, he joined renowned Egyptian musician Omar Khairat in events honoring the memory of Sheikh Zayed bin Sultan Al Nahyan. In the same year Kharma participated in the activities of the World Youth Forum held in Sharm el-Sheikh, where he composed the soundtrack for the opening of the forum.
He collaborated with Indian singer Tanvi Shah in "Slumdog Millionaire" (2008) for her song "Born Free". He also worked on the "al-Nehaya" series which was shown in the Ramadan 2020 drama season.
He recently composed the soundtrack for the movie "Day 13" that was recently released in Egyptian theaters.
It is the first Arab feature film shown in 3D, and raked in well over LE22 million. The movie is written and directed by Wael Abdullah.