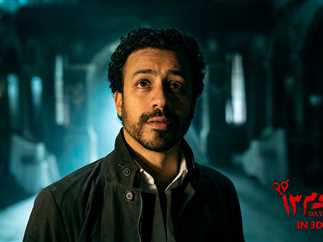 Horror film "Day 13″ topped the box office in Egypt on Wednesday, beating "Harley" starring Mohamed Ramadan.
The film settled for LE560,000 over the past 24 hours, raising its total revenue in two weeks to LE18.9 million.
"Day 13" is the Arab world's first film shown entirely in 3D. It revolves around Ezz Eddin, played by actor Ahmed Daoud, who returns from abroad to his family's mansion in Egypt with planning to sell it.
He then discover dark secrets that he was not expecting.
The movie stars Ahmed Dawoud, Dina al-Sherbiny, Sherif Mounir, Ahmed Zahir, Jumana Murad, Mahmoud Abdel Moghny, Arwa Gouda, Nisreen Amin, Mohamed Tharwat, Mohamed Kilany, Magdy Kamel, Nihal Anbar, Noha Abdeen and others. It is written and directed by Wael Abdullah.
Day 13 started filming in December of 2019. The making continued for three full years as it required long so as to be shown in 3D, and because the film contained as well many difficult scenes.
It competed within the Eid al-Fitr in theaters with six other films.
It outperformed "Harley" on Wednesday despite leading the box office throughout the week of Eid al-Fitr holiday.