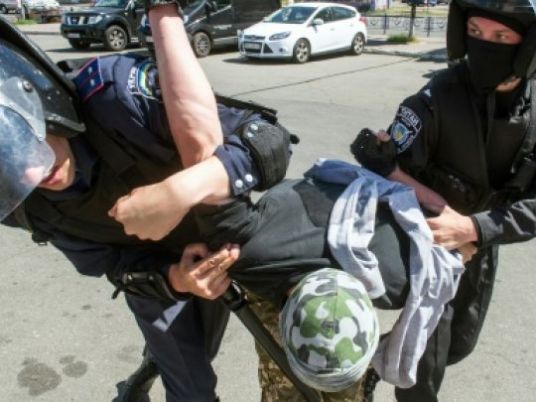 Oleksandr had already lost his job for being gay in the rebel Ukrainian bastion of Donetsk when he was approached by two Russian speakers with rifles dangling on their hips.
"So what are you, a fag?" one of them asked as the 28-year-old was grabbing a pack of cigarettes at the local kiosk.
Lanky but athletic Oleksandr — an avid cook who loves curling up with a book and is particularly partial to board games — said the prejudiced gunmen's suspicions seemed to have been aroused by his expressive gestures and soft voice.
Oleksandr mumbled something vaguely without looking up and walked away.
"By the end, I was just afraid someone was going to hunt me down and shoot me outside my apartment building," he said.
The incident happened shortly after guerrillas preaching the socially conservative values espoused by Russian President Vladimir Putin seized parts of eastern Ukraine just over a year ago.
Oleksandr has since joined a wave of people — some openly homosexual and others far less so — who have fled the warzone and tried to rebuild life with the help of friends in Kiev.
"The Donetsk people started gossipping and exposing each other," the once fast-rising sales manager recalls.
He lost his job after a seemingly innocuous remark about another man crept through the social media networks and eventually reached his boss.
Oleksandr recalls being told: "You're a good worker but I do not want gays on my staff."
No hand-holding in public
The stigma of being gay in Ukraine has long forced many to keep their personal lives to themselves.
And it makes efforts by relief agencies to count and find those in need of relocation an increasingly hopeless mission.
Kiev is a cosmopolitan city of 2.9 million in which a small gay community gathers in bars clustered under the towering cathedrals that have played such an important part in Eastern Europeans' culture for some 1,500 years.
Yet much of Ukraine's rural population remains profoundly religious and unaccustomed to open public displays of emotion between people of the same sex.
Such "propaganda of non-traditional sexual orientations" deemed as potentially influencing minors — ranging from hand-holding to kissing on the streets — has been criminalized and made punishable with a fine in Russia.
The measure echoes the Soviet Union's treatment of gays as miscreants who were either jailed or sent to remote psychiatric wards.
Ukraine's warlords have done little to hide their attachment to such an uncompromising approach to alternative lifestyles.
Separatist leader Denis Pushilin told reporters last year that he "never had, and never will, have gay friends".
The self-proclaimed People's Republic of Donetsk is drafting a law banning rights groups of all types that receive foreign funding.
"The level of homophobia in the east is high. It is worse now than it was in the Soviet era," said gay rights activist Oleksandr Zinchenkov.
"Many gays and lesbians have simply fled."
'Hiding behind a mask'
Yulia ended up in a four-room refuge built out of a dilapidated 1970s flat on the sleepy outskirts of Kiev.
The 29-year-old lesbian says it is the only such safe house in Kiev she knows of — and one set up thanks solely to a Western donor who asked to remain nameless.
Volunteers deliver basic food items and passes for public transport. The anonymous foreign donor pays for any medical or psychological help required.
Yulia and her four flatmates feel safer — but not entirely free.
"The friends I still have left (in Donetsk) have all gone into hiding," she says with a degree of resignation in her voice.
The turmoils of war have also fed the passions of some ultranationalist forces that not only volunteer to fight the pro-Russian militias, but also take a grim view of homosexuals and those outside the Catholic faith.
A small Gay Pride parade staged in Kiev earlier this month ended in almost immediate clashes between police and neo-Nazi thugs.
Neither Yulia nor her flatmate attended that event.
"I sensed the public's mood in advance," says Yulia's flatmate Andrei.
The 52-year-old managed to get out of Donetsk during a brief lull in fighting at the start of the year. But he refuses to disclose his new address in public — a safety precaution shared by all five.
"I feel like I am always hiding behind a mask," Andrei confesses.