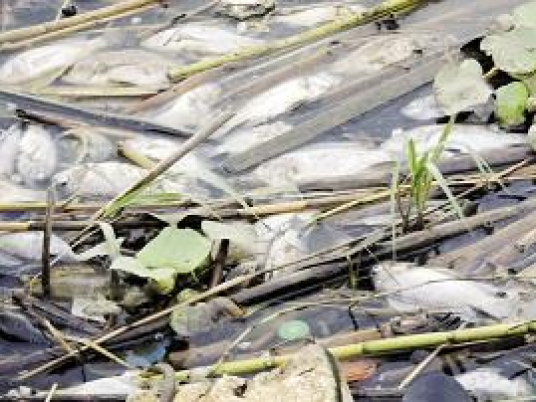 Large quantities of dead fish were found floating in the Nile in the Koam Hamada and Eitay al-Barud areas of the Beheira governorate on Tuesday morning.
Hundreds of dead fish were found on September 13 in the Rahmaniya and Shobrakit areas of the Beheira governorate. According to the results of a water sample analysis, the fish died of lead poisoning.
After dead fish were discovered in the Nile River close to Beheira, Monufiya and Gharbiya, an official source, who asked to remain anonymous, called for a fishing ban in the area due to polluted waters.
Hamed Habila, Koam Hamada City's mayor, said dead fish have been collected from the Nile in the area. The Health Ministry and local authorities have formed a committee to inspect the market and prevent the selling of dead fish by merchants. Habila added that water samples have been taken for analysis to examine whether it is drinkable.
Lead poisoning may lead to the destruction of the nervous system in humans and animals, breaking down red blood cells, which could lead to anemia. Anemia affects the kidneys, causes infertility, and eventually leads to death, said professor Obaid Saleh, dean of the Faculty of Veterinary Medicine in Beheira.
According to a report by the World Health Organization, lead poisoning exposes about 600,000 children to mental disability and causes the death of 143,000 every year.
In Kafr El-Sheikh, panic prevailed among citizens in Desouk after huge quantities of dead fish emerged in Rosetta.
Bad odors forced many residents living in houses overlooking the Nile to flee the area.
Hesham Draz, president of the Association of Fishermen in Desouk, said colored spots appear on the fish and eventually fish become swollen and die.

According to Draz, chemical waste thrown by factories in the Nile water, which includes sulfuric acid (H2SO4), causes the death of fish.

He said sulfuric acid is used by industries in fertilizers, plastics and automotive batteries.
Edited translation from Al-Masry Al-Youm