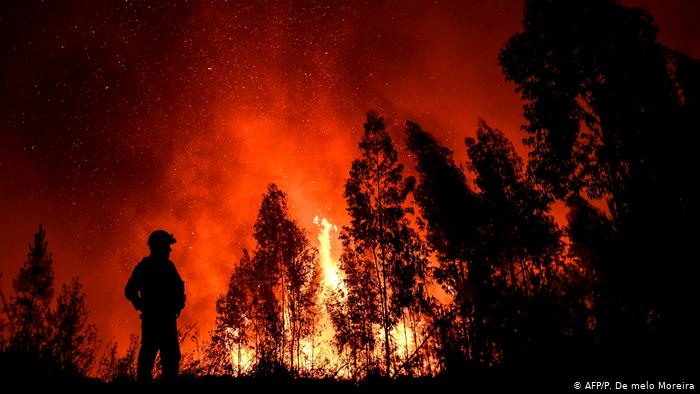 Portuguese authorities have used helicopters and planes to fight three blazes that were sparked Saturday in the country's central region.
Over 700 firefighters have been deployed to the scene. Several of them were hurt, with one person sustaining serious injuries.
Strong winds were accelerating the spread of the fires from the district Castelo Branco, some 225 kilometers (139 miles) northeast of Lisbon.
One of the wildfires reportedly reached the municipality of Macao, less than 80 kilometers away from the capital.
Read more: Germany's forests on the verge of collapse, experts report
'The wildfire came with force'
Speaking with TV channel SIC, a resident of Macao complained that there were not enough firefighters in the area.
"The wildfire came with force," the person said. "We [residents] had to fight the flames."
Portugal's military reported that 20 soldiers were heading into the area to help with the operation, alongside four bulldozers.
Authorities also declared the highest possible level of alert in seven Portuguese counties.
Forest fires are common in the southern European country. A 2017 fire in the central town of Pedrogao Grande killed at least 64 people.