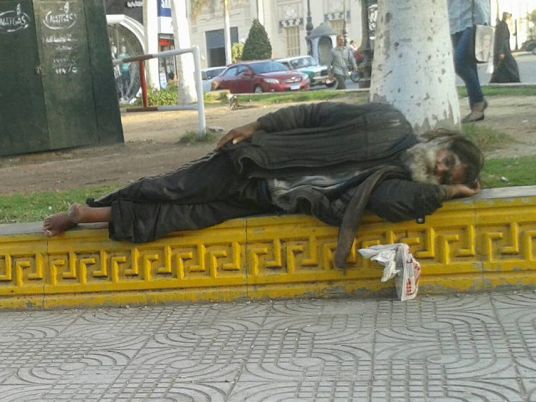 Minister of Social Solidarity Nevine al-Kabbaj announced Saturday that hundreds of homeless Egyptians were successfully sheltered during the wave of severely turbulent weather on Thursday and Friday.
The "Children Without Shelter" program on Friday dealt with 427 cases of homeless people, Kabbaj said – among them 205 seniors and 222 children.
The program delivered 120 blankets and 311 meals, she added, in cooperation with civil society organizations. Fifty-nine people received first-aid care, while two cases were transported to hospital to receive medical treatment.
Kabbaj praised work done with the civil society that ensured the homeless received the care they needed.
The ministry's central rapid intervention team said it also dealt with 500 cases of homeless people and families impacted during the bad weather.
A report released by the team explained that 45 seniors were transferred to care homes, 15 children placed in shelters and 500 blankets and 578 meals were handed to 278 families.
The report also referred to the cooperation done with civil society organizations to help care for the homeless, while several institutions throughout the country opened their doors to shelter people in need.
The rapid intervention teams are continuing their work across Egypt, Kabbaj said.
The Egyptian Red Crescent (ERC) responded to a distress call for a group of African refugees who needed shelter during the turbulent weather.
The ERC's executive director, Rami al-Nazer, said that relief teams provided the required support to 37 people, with temporary residence provided in the Al-Mutamayez District in 6th of October City.
Nazer said they received foods, blankets, mattresses and health services.
Edited translation from Al-Masry Al-Youm