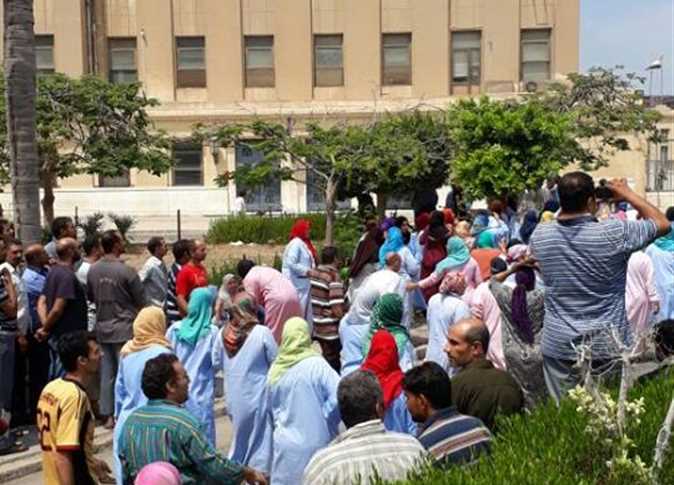 Hundreds of the Egyptian Spinning and Weaving Company workers moved their sit-in, on Tuesday, from the company's factories in Mahalla city, Gharbiya, to the front of the company's headquarters on Talaat Harb Street in Cairo, to protest the Cabinet negligence of their demands.
Thousands of workers started their sit-in eight days ago in Mahalla.
Talaat Harb protesters chanted: "We want our rights, our bonuses are a legitimate right".
The workers demanded the disbursement of the special bonus, equal to 10 percent of the basic salary, approved by President Abdel Fattah al-Sisi and the parliament, their delayed bonuses over the past 6 months and the alloted food allowance before they would end their strike.
Company sources sat losses resulting from the strike at LE55 million.
The workers threatened to take their their sit-ins outside and said that thousands of their family members would join them, until their demands were met. A number of labor leaders had previously succeeded in persuading them to postpone this move.
Sources in the company's board of directors said that Chairman of the Holding Company for Spinning and Weaving Ahmed Mostafa instructed the Commissioner-General of the company on Sunday to communicate with the workers, persuade them to abandon their strike and return to work in an attempt to fulfill business deals made with investors. Negotiations failed, workers refused the offer because it provided no concrete timeline.
Sources stressed that continuing the strike may put the board of directors in a dilemma due to of financial losses, a result of penalty conditions set in contracts with investors if the company does not fulfill the contracts on time.
Mostafa called for an urgent meeting,  on Monday evening, of the Egyptian Spinning and Weaving Company's board to end the crisis. The Center for Trade Union and Workers Services said in a statement on Monday that the security personnel of the company headed to the workers of factories number 5 and 6 on Monday evening, in an attempt to intimidate them.
Edited Translation from Al-Masry Al-Youm