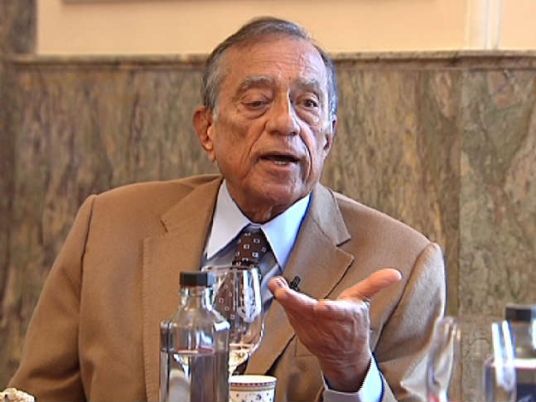 The Cairo Criminal Court acquitted on Thursday Mubarak-era business tycoon Hussein Salem in his retrial in the case known as the "Israel gas export deal".
The court had previously acquitted Salem and former president Hosni Mubarak in the case but the public prosecutor appealed the acquittal and a retrial was held.
The court said Salem has already reconciled with the state and returned money he illegally acquired through the deal.
In December 2016, Salem and his family's lawyer Mahmoud Kebeish submitted a court warning to President Abdel Fattah al-Sisi, Prime Minister Sherif Ismail and Justice Minister Hossam Abdel Rehim to overturn the freezing of the Salem family's assets in Egypt.
The warning stated that on August 2, 2016, a final reconciliation was concluded between the Egyptian government and Salem and his family over financial corruption charges, upon which the family's seized funds should have been released.
The chairman of the Illicit Gains Authority Adel al-Saeed announced in August a reconciliation deal agreed on between the authority and the fugitive Mubrak-era energy tycoon Salem, along with members of his family.
Saeed said in a press conference at the Justice Ministry headquarters on Wednesday, August 3 that a deal was signed with Salem and family members in return for LE5.341 billion, equal to 75 percent of his officially-registered wealth.
The officially recorded wealth of Salem, who now hold Spanish nationality, is around LE7.122 billion.
Saeed explained that, if any other property is identified in future as being owned by Salem, it will automatically be transferred to the state, in accordance with the deal.
As part of the deal, the names of Salem and several other fugitive family members have been removed from Interpol's Red Notice list, and the freeze on his Egyptian properties should have been removed.
Salem was implicated in multiple court cases, one of which involved the Eastern Mediterranean Gas Company that exports gas to Israel.
Another case involved Al-Bayedeya lands in Luxor, a case that also implicates Alaa and Gamal Mubarak.
Salem was accused as well of profiting from his relationship with ousted president Hosni Mubarak; corruption; and illegally seizing public money.
Edited translation from Al-Masry Al-Youm