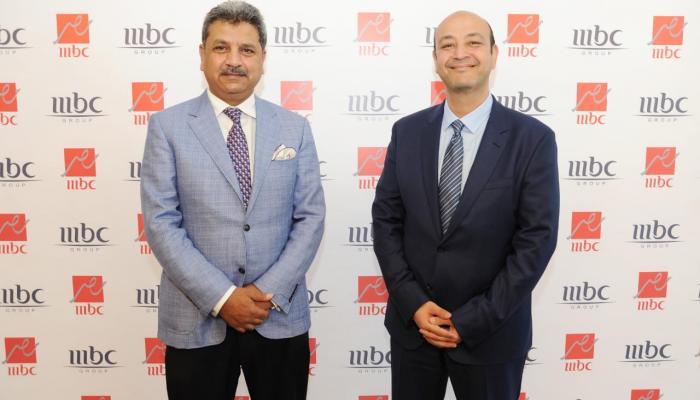 Egyptian anchor Amr Adib announced that his newest show "al-Hekaya" (The Story), due to air on MBC starting 15 September would also be his last.
In a press conference for program's launch on Sunday, Adib told press he is happy to be wrapping up his career in the MBC, describing it as the perfect ending for his diverse career.
Adib stated that newest show will aim at educating his audience.
An audience member asked Adib about the fact that he has become the highest paid Arab anchor following the MBC deal, to which Adib replied, "I've been the highest paid even before joining MBC ," adding he'd happily work at the MBC for free.
"al-Hekaya" will air on MBC three times a week on Saturday, Sunday and Monday.
Adib added he will be quitting media all together in three years, as by then it would be the 25th anniversary of his media career, proclaiming that "I'm freeing myself up to rooting for Zamalek!"
Addressing rumors that his new show would be constricted and censored, all Adib had to say was to watch first and then pass judgement.
He reminisced on when he ended his contract with Orbit, saying that many thought his career was over by then but he still managed to strongly succeed in television.
"After that I didn't want to work anymore," he said, "but it is a great opportunity to end my career in a huge channel like MBC ."
Adib also addressed the question of whether his move to MBC would affect the channel's main evening talk show "Yahdoth Fi Masr" by presenter Sherif Amer, stating that both programs represent MBC and would not compete, but will coordinate on a daily basis with president of MBC channel Mohamed Abdel Mana'al to avoid any clashes.
"al-Hekaya" will be presented by Adib and co-hosted by Ragaa al-Geddawy, Dr Saad al-Din al-Helaly and Gigi Zayid.
Adib signed his contract to join MBC Masr back in June in the presence of the Director General of network Mohamed Abdel-Mutaal. At that time, Adib expressed happiness to join the network. This is not the first cooperation between MBC and Adib however, as he has had successful work before with MBC4 as part of the jury of the first season for "Arabs Got Talent" back in 2011.
For the past twenty years, Adib took the Arab media world by storm.
Dubbed as the "Larry King of the Arab World", Adib garnered a faithful audience through his presenting and interviewing skills as well as the bold topics he chose to tackle. He started his career in print, becoming the editor in chief of Al-Alam Al-Youm, before cementing his name in television through Al Qahera al-Youm. Around twenty years later, he moved to host Kol Youm on On E.