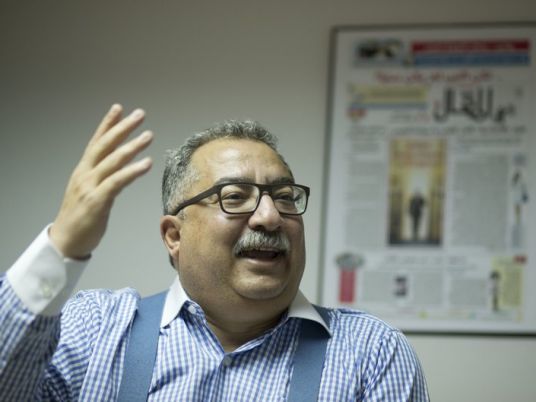 Prominent journalist and TV host Ibrahim Eissa plead not guilty to accusations leveled against him by Parliament Speaker Ali Abdelaal and a lawyer during an investigations session at the Cairo prosecutor general's office on Sunday.
Eissa is being investigated in two different cases; the first is filed by Abdelaal accusing the editor-in-chief of Al-Maqal of insulting the Parliament and its members.
The other case was filed by lawyer Samir Sabry who accused Eissa of disturbing public order and spreading false news by publishing topics and articles about the conditions inside North Sinai governorate and describing the situation as similar to what is happening in Syria and Iraq.
Eissa said during the investigation that he did not insult the Parliament nor did he offend it in any form, and that the accusation is not true at all. He added that he used his legitimate right as a journalist to criticize the performance of the Parliament.
He pointed out that the Constitution guarantees freedom of opinion and the press. Eissa said he did not mean to disturb the public peace or publish false news, explaining that the Al-Maqal's headlines are written in a way that highlights the meaning and are not intended to insult or disturb the public peace.
Articles published in Al-Maqal about the situation in North Sinai are the same as what all other newspapers and media publish, he said, asserting that the charge of spreading false news is invalid. He compounded his argument by saying that the lawyer who filed this case has no legal capacity to do so, and no competent state agencies have filed any reports against him.
The prosecution office released Eissa on LE10,000 bail. After his release, Eissa said Egypt would only progress when freedom of opinion is protected, and demanded that the values of the Constitution are upheld.
Tensions between the editor-in-chief and the legislative body erupted when Eissa suggested that the Parliament is a merely a cartoon, which deserves an Oscar. The front page of the paper on February 28 read: "The Oscar goes to… best cartoon movie: the Parliament." — a headline the parliamentarians considered an insult.
In that issue, Eissa made satirical Oscar nominations for government official and agencies.
"And that included best movie: the pound flotation; best actor: Sherif Ismail, for his role as prime minister; best director: Egypt's National Security Agency, for directing the parliament and satellite channels; and best supporting actress, Hoda Abdel Nasser, for her role in Tiran and Sanafir movie."