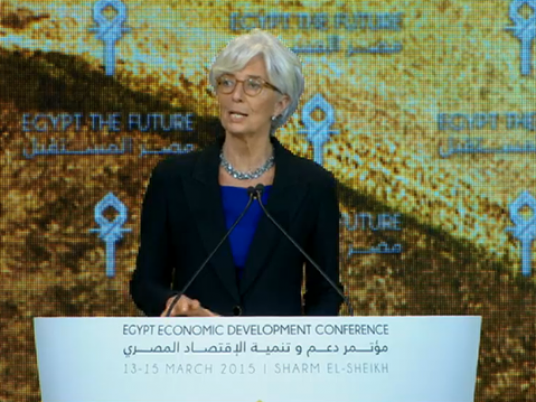 Egypt can simultaneously achieve goals of economic growth and economic reforms if coupled with the right polices, the International Monetary Fund's Managing Director Christine Lagarde said on Friday.
Egypt has taken "promising strides" towards economic reform, Lagarde said during Egypt's Economic Development Conference held in Sharm al-Sheikh to encourage investment.
Lagarde said initiating energy subsidy reforms in 2014 was a major achievement, stressing the importance of seeing them through.
In one of the first steps adopted by the administration of Abdel Fattah al-Sisi following his election as president, the government reduced petroleum subsidies and introduced new taxes last July, hiking fuel prices by up to 78 percent.
Maintaining reforms is a priority to restore confidence in Egypt's economy, Lagarde said. Policies that could be adopted to achieve this include increasing competitiveness in the business environment, openness to trade, and increasing access to financial services can revamp the economy, she said.
Lagarde applauded Egypt's plans for increasing investment, specifically addressing a mega project the state is building in the Suez Canal region. She stressed that such large projects can support growth and job creation, yet added that other, smaller-sized projects are equally important.
"The funding of these projects cannot always rely on the public purse," Lagarde said, in reference to the Egyptian-owned investment certificates used to finance the new Suez Canal project. The IMF director stressed that private investment, be it domestic or foreign, could play a role in financing projects. "Yet, investment only goes where there is confidence and policy certainty."
On restoring confidence in Egypt's economy, Lagarde referred to a newly-issued set of legislations to regulate investment, describing them as "a very good step in the right direction."
Sisi issued the legislations on the eve of the economic conference. They were alsopraised by United States Secretary of State John Kerry, who said on Friday they could cut down bureaucracy when it comes to investment in Egypt.
Investment Minister Ashraf Salman told reporters last week that the laws include incentives and benefits to reduce production costs, which would in turn encourage investment.
Lagarde noted, however, that according to World Bank figures, it takes over 60 days to register property in Egypt and over 1000 days to enforce a contract.
"This is a moment of opportunity. With the right policies, Egypt's government can deliver on the hopes and aspirations of the Egyptian people," Lagarde said, stressing the IMF's commitment to helping Egypt achieve better living standards.
Egypt has long been campaigning for this economic conference, hoping that it will bring investments needed to revamp its economy, which has been hit hard by four years of political instability.