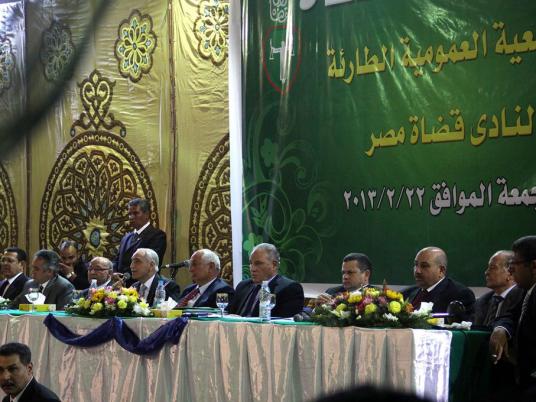 A former judge at loggerheads with his past colleagues has warned Egypt's President Abdel Fattah al-Sisi of judicial officials who are giving his regime a bad image.
Former head of the Judges Club, Zakariya Abdel Aziz, who was subject to a disciplinary impeachment by the club, told Al-Masry Al-Youm that some judges tarnish the president and his government with their "malicious" actions.
Abdel Aziz was attributing his remarks to the club's decision to refer him to a disciplinary questioning over his alleged participation in the invasion of the headquarters of the notorious and now-defunct State Security Investigation Service (SSIS) during the 2011 uprising.
Abdel Aziz was celebrated by democracy advocates as one of the figures who struggled for judicial independence under former president Hosni Mubarak.
The former judge said that the club's move against him was unprecedented, accusing its board of "attempting to eliminate all the judges intending to run in the coming club elections," including himself.
Abdel Aziz wondered why the club had revived the accusations against him three years after the incident, noting that guards at the SSIS office have not launched accusations against him.
Meanwhile, Refaat al-Sayyed, former head of the judges club in Assiut, said accusations against Abdel Aziz are based on security authorities' investigations. "Whether his participation (in the storming of the SSIS) was a political or a patriotic action, it is a matter to be decided on by the eligibility panel he was referred to," said Sayyed, informing Al-Masry Al-Youm that they based their actions on media reports confirming Abdel Aziz's involvement.
Edited translation from Al-Masry Al-Youm