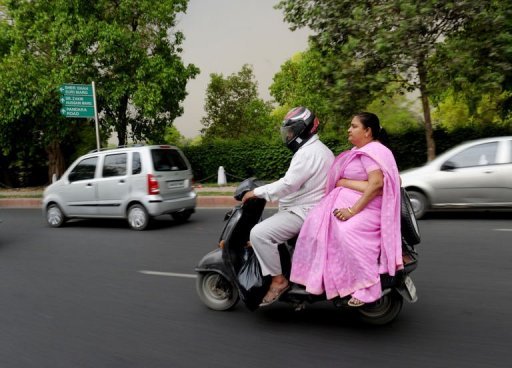 Indian Prime Minister Narendra Modi begins a visit to Britain on Thursday that he hopes will yield trade deals worth billions of dollars and a boost to his authority after a damaging electoral failure back home.
Bruised by his Bharatiya Janata Party's defeat in an election in populous Bihar state last Sunday after a campaign in which he played a prominent part, Modi is seeking to regain the political initiative by increasing investment and growth.
Diplomats say deals worth 8-12 billion pounds could be signed during his visit to London, with the Indian leader keen to buy 20 more BAE Systems Hawk trainer aircraft to be made in Bengaluru.
The emotional high point of the visit is likely to be a mass rally at Wembley Stadium on Friday during which Modi will address some 60,000 supporters from the Indian diaspora in Britain, which numbers 1.5 million.
Modi, paying the first visit to Britain by an Indian prime minister since 2006, is expected to receive a rapturous welcome in scenes that allies hope will reassert his authority and standing on the world stage after the blow in Bihar.
However, protests were also being planned by various groups opposed to Modi and to what they see as his party's aggressive Hindu nationalist agenda. Modi has been widely criticised in the British press over the same issue.
More than 200 writers, including well-known authors such as Salman Rushdie, Ian McEwan and Nikita Lalwani, have signed an open letter to Prime Minister David Cameron urging him to raise concerns about freedom of expression in India when he meets Modi on Thursday.
"We, the undersigned, are extremely concerned about the rising climate of fear, growing intolerance and violence towards critical voices who challenge orthodoxy or fundamentalism in India," the letter said.
"The protests have grown beyond the community of Indian writers of all languages. Scientists, artists, film-makers, academics, scholars, and actors have either complained the climate of intolerance or returned awards on a scale unprecedented in India."
After meeting and holding a joint news conference with Cameron, Modi will then address the British parliament, before heading to the Guildhall, a historic building in the heart of the City of London financial district, where he will give a speech to a business audience.
Cameron's office said Britain would seek to promote London as a centre for offshore rupee bonds and Indian companies were expected to announce plans to issue debt denominated in their own currency.