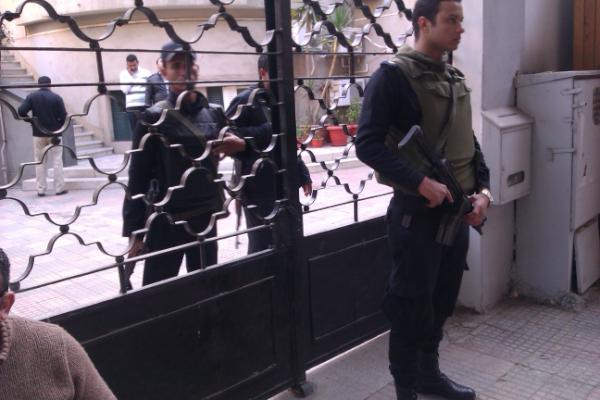 Vinuta Gopal, acting head of Greenpeace India, has had more than a few sleepless nights over the past year worrying about the future of her organisation.
The Indian government labelled the group "anti-national" for its campaigns against coal mining, genetically modified crops and nuclear power, and blocked its bank accounts, deported foreign workers and stopped Indian staff from overseas travel.
The situation reached crisis point in May when a funding crunch pushed the charity to the brink of closure and Gopal and her 250 or so colleagues made the decision to work for free.
But Greenpeace India is not alone in facing a crackdown by governments which see the growing affluence and influence of charities backed by social media as a threat, say experts.
Thousands of foreign-funded non-government organisations from Latin America and Africa to the Middle East and Asia have come up against authorities imposing or drafting laws which put a squeeze on their foreign donations, jeopardising their work.
"It's been a tough year … where one has felt that this could well mean the end of Greenpeace in the India," Gopal told the Thomson Reuters Foundation.
"The signal that they are sending by making a case out of Greenpeace to larger civil society is that if you challenge our policies then we will come after you."
Over 60 countries in the last three years have sought to curb the ability of non-profit groups to receive or use overseas funds, using justifications which range from labelling them as "foreign agents" to allegations of financial misconduct, says the International Center for Not-for-Profit Law (ICNL).
These include Russia, China, Tajikistan, Azerbaijan, Cambodia, Pakistan, Bangladesh, India, Kenya, Uganda, Israel, Ethiopia, Angola, Honduras, Venezuela and Egypt amongst others.
SHIFT IN FOCUS
The move comes following a surge in funding – and a shift in focus for many non-profit groups that has made governments edgy.
Civil society groups received $17.7 billion from developed nations in 2013, up from $2.7 billion in 2004, according to humanitarian data researcher Development Initiatives.
Alongside this, they have shifted from traditional work in basic service provision to advocacy and campaigning, mobilising public support through Facebook and Twitter on issues ranging from corruption and conservation to religious and gender rights.
This has prompted governments to impose various restrictions including tougher financial reporting rules, stemming funding through counter-terrorism laws, forcing funds to be routed through governments, placing caps on funds and using laws such as treason to pursue criminal charges.
"Citizens are seeking to work together to improve their everyday lives, but many governments find this threatening. They don't want to be questioned or to be held to account by their citizens," said Douglas Rutzen, president of U.S.-based ICNL.
"Some governments target NGOs that seek to engage in advocacy or groups they don't like. But in many countries, restrictions apply across the board, including groups that help battered women, run orphanages, or provide public health services."
In Cambodia last week, security forces prevented hundreds of activists, unionists and charity workers from protesting against a proposed law which requires them to report their activities. NGOs say it is a move to silence criticism.
While last month, dozens of Pakistani police turned up at the Save the Children office in Islamabad, padlocked the gates and ordered the charity's foreign staff to leave the country.
Although the decision was reversed after criticism from western nations, Pakistan has ordered all foreign non-profits to re-register within three months and is drafting a law allowing officials to stop overseas funded charities from operating.
Greenpeace India's woes began in June 2014 when a leaked report from India's Intelligence Bureau claimed foreign donors were paying charities to sabotage key industrial projects with Greenpeace India the most prominently mentioned charity.
FORD, GATES FOUNDATION UNDER SCRUTINY
Officials accuse the charity of not accounting for 60 million rupees ($943,000) in its financial statements and the group's seven bank accounts were frozen in April.
In January an Indian staff member was barred from going to London to talk to UK lawmakers about a coal project in central India while last month an Australian staff member with a visa was stopped by immigration and deported without explanation.
Greenpeace, which is locked in a legal battle with the government and has now been granted access to two of its bank accounts, denies its activism is hurting economic development.
But in the world's largest democracy, where there are at least two million non-profits working in various areas, the crackdown goes well beyond Greenpeace India.
In the last three months, the home affairs ministry has cancelled the licenses of more than 13,000 organisations, saying they have violated a law on foreign funding.
Big donors are not immune. The U.S.-based Ford Foundation faces a probe into funding a group run by a prominent rights activist and critic of Prime Minister Narendra Modi and auditors are investigating the finances of charities funded by the Bill and Melinda Gates Foundation.
Charities welcome regulation and transparency, aware of the need to keep the booming sector in check, but say the law is being abused to the detriment of those they are trying to help – the poor and marginalised.
"It seems that 'compliance' is serving as a garb to actually target those organisations and individuals whose views the government disagrees with, and indeed to monitor and stifle disagreement itself," said an open letter to Modi in May which was signed by over 170 charities.
"Several NGO projects have shut down, donors are unable to support work, and there is an overall atmosphere of state coercion and intimidation in India's civil society space."
Government officials deny trying to muzzle opposing voices, saying they are enforcing the law and national security.
"There are many good activists who think in a good way," Indian environment minister Prakash Javadekar told Indian news station NDTV last month.
"I don't say that there are good NGOs and bad NGOs. I say there are certain people with an agenda."
SHOOTING THE MESSENGER
Western donors say what is happening in India is part of a broader global trend where governments are using various methods to increasingly suppress non-government groups including limitations on financing, size, travel or registration.
"(Other methods include) cracking down on communications technologies that connect civil society groups and in some cases physical harassment including jail and torture," said Chanan Weissman, a spokesperson for the U.S. State Department's Bureau of Democracy, Human Rights, and Labour.
In 2014, the non-government sector was active in crises such as the West Africa Ebola outbreak, Nepal earthquake and in conflicts such as in Syria, Yemen, South Sudan and Gaza.
They also contributed to mobilising people in anti-austerity protests in Europe, pro-democracy protests in Hong Kong and anti-graft demonstrations in Brazil.
CIVICUS, a global alliance of civil society groups, says it documented 96 countries in 2014 where there were serious violations to freedom of expression, association and assembly of non-profit groups. From 2010-2013, CIVICUS tracked 75 serious threats to civil society in roughly 75 countries a year.
These included Ethiopia and Egypt where journalists and bloggers have been jailed, Kenya where over 330 NGOs suspended and Azerbaijan where the bank accounts of at least 50 charities have been frozen.
Mandeep Tiwana, CIVICUS's head of policy and research said charities, like every sector, had their problems, but generally people were driven more by passion than profit.
"Because of the nature of their work in exposing governance failures and grave rights violations several governments have created a bogey to demonise and stigmatise, in public eyes, NGOs and activists uncovering abuse," said Tiwana.
"Questioning the messenger's credentials is a common tactic that helps deviate the argument from the real issues and muddies the public discourse."
In countries such as Egypt, Algeria, Jordan, Bahrain, Uzbekistan, Turkmenistan, Eritrea and Bangladesh, laws require charities to get approval to receive foreign funds, leading to an Egyptian court in 2013 imposing jail terms on 43 NGO staff.
In Ethiopia, authorities have put a cap on the amount of overseas funding charities can receive, while in Nepal, Uzbekistan, Eritrea, Sierra Leone and Uganda, donations must be routed through a governmental body.
Governments in Russia, Kyrgyzstan and Ukraine have attempted to stigmatize charities receiving international funds through "foreign agents" legislation. Israel is mooting this.
"The worst thing about the new legislation is the alienation of the NGOs and the communities they serve. It means increasing amounts of paperwork, and heads of NGOs face criminal liability if targeted," said Anna Sevortian, executive director of the EU-Russia Civil Society Forum.
In other countries such as India, Tunisia, Uzbekistan, Panama and Turkey, charities face tougher reporting requirements and authorities have broad powers to deny or revoke licenses.
Venezuela, Ecuador and Honduras, in recent years, have cracked down on non-profits, including environmental, religious and rights groups, often accused of meddling in politics.
Last year, Honduras revoked the legal status of around 10,000 NGOs for failing to provide the government with annual reports on their finances and programmes.
While in Ecuador, Rafael Correa's government issued a decree in 2011 requiring NGOs to go through new screening procedures to get permission to work in the Andean nation.
For many NGOs globally, the future looks challenging.
Eang Vuthy, executive director of human rights group Equitable Cambodia, said a draft law which will require Cambodia's 5,000 NGOs to report their activities and finances to the government would make it impossible to operate freely.
"The law will greatly affect the work and independence of NGOs … because our work as a human rights organisation can involve the authorities themselves when they have violated people's rights. Sometimes it is the government we have to hold to account," Vuthy said.