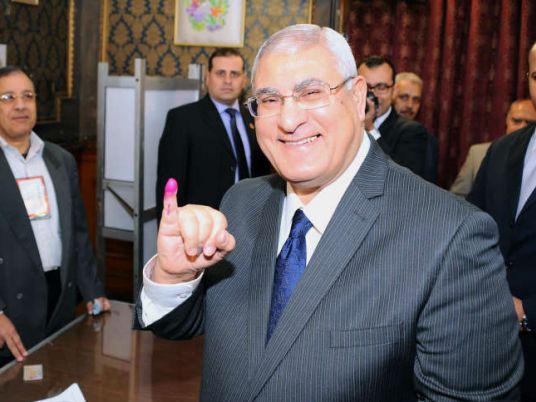 Egypt's Interim President Adly Mansour has sanctioned a law regulating the upcoming presidential elections, his constitutional adviser Ali Awad said in a press conference on Saturday.
The government approved the draft law and referred it to Mansour on Thursday after it had been reviewed by the State Council.
Many have speculated that Defense Minister Abdel Fattah al-Sisi had been awaiting for the issuance of the law in order to declare his nomination for the presidency. He recently stated that he cannot ignore popular calls urging him to run the election.
The 60-article law includes some controversial provisions, such as one conditioning that the candidate holds a university degree.
The law still denies challenges to be filed against the decisions of the Presidential Elections Commission after announcing election results.
Awad attributed the stipulation to the "nature of the transitional period and security problems."
The law also stipulates that a candidate should not be less than 40 years of age, and is required to obtain the support of 25,000 eligible citizens.
Edited translation from Al-Masry Al-Youm