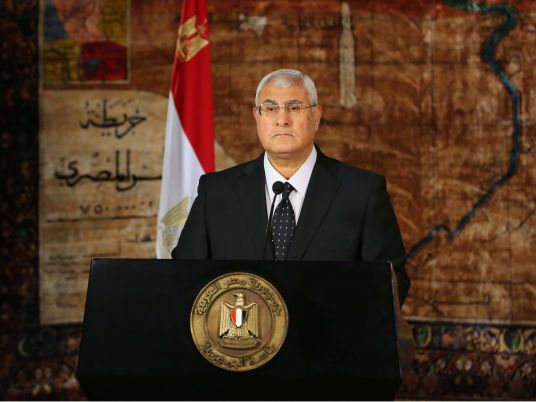 Interim president Adly Mansour called on Egyptians to participate in the referendum on the draft constitution, scheduled for Tuesday and Wednesday next.
The referendum is the most challenging and pivotal part of Egypt's democratic roadmap after the ouster of the country's first democractically-elected President Mohamed Morsy, as it legitimizes the government to move forward with parliamentary and presidential elections.
"The ratification of the new constitution will pave the way for concrete steps to build democracy as the nation will have an elected president to lead it on the path of survival, progress, and prosperity," Mansour said.
"Come out as we did before to complete our revolution as we wanted a modern democratic state…
Lead the ship of homeland forward, and give to the world an example of urbanization and commitment,
"
Mansour said.
Mansour heavily encourage voters to turn out on the day of the referendum in his speech at the Ettihadeya Palace on the anniversary of the birthday of Prophet Mohamed. "We will go the day after tomorrow to cast our vote in the referendum on the [draft] constitution…The [draft] constitution respects the laws, preserves freedoms and rights, and establishes a modern state without discrimination," he said.
"I pray to God Egypt be granted a merciful leader and father, and to have a representative government in the contemporary sense of the term," he added.
"Our community needs to renew a religious discourse that does not deviate from the right, follows the Quran, Sunnah and the values ​​of Islam, that eliminates polarization and sectarianism, and that addresses the problem of extremism," he said.
A celebration was held at the Ettihadeya Palace on the anniversary of Prophet Mohamed's birthday Sunday. Prime Minister Hazem al-Bebawy, Defense Minister Abdel Fattah al-Sisi, Al-Azhar Grand Sheikh Ahmed Al-Tayeb and a number of officials and ministers attended the celebration.
Edited translation from Al-Masry Al-Youm