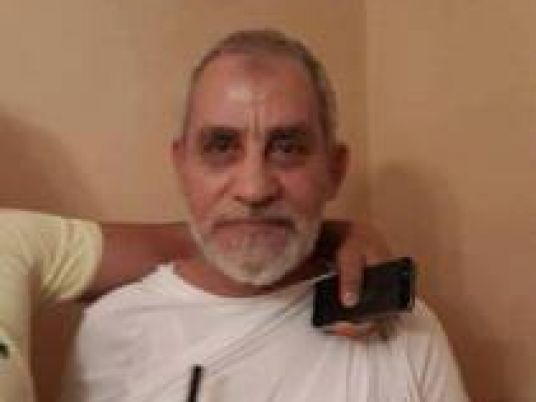 Egypt's Interior Minister has said it is aware of hideouts used by Muslim Brotherhood leaders, the same day it was reported that Supreme Guide Mohamed Badie had been arrested.
Assistant Interior Minister for Prisons Mostafa al-Baz said Mohamed Badie was being detained in a prison affiliated with Tora Prison after his arrest early
Tuesday
.
Head of Cairo General Investigations Department Gamal Abdel Aal said that the security agencies have near certain information about hideouts used by the Brotherhood.
He added that the large number of protesters in Rabaa al-Adaweya sit-in, as well as the existence of many side-streets in the area, helped Brotherhood leaders to escape while security forces were breaking up the site.
Abdel Aal said there had been many failed attempts to arrest Badei until the security forces succeeded in finding him in an apartment in Nasr City. He added that Badei was arrested along with his secretary and a university student from the apartment. Abdel Aal pointed out that no weapons were found with them.
Baz meanwhile said that the Brotherhood's supreme guide would be treated like any other defendant detained pending investigation and would be treated according to the law.
He added that Badei will not be allowed to meet his deputy, Khairat al-Shater, or other Brotherhood leaders detained in Tora Prison pending investigation on charges of inciting violence.