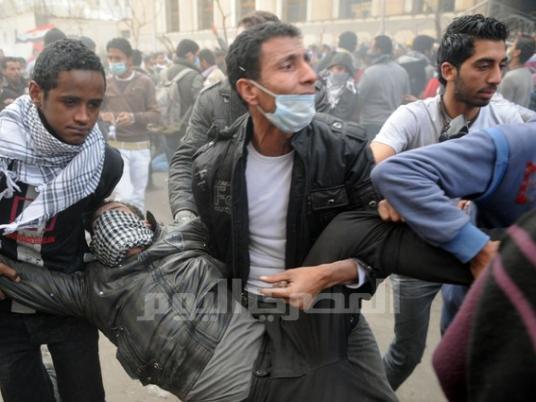 The Cairo Criminal Court decided on Monday to adjourn to 18 November the trial of 33 defendants accused of burning the Real Estate Tax Authority building and attempting to storm the Interior Ministry building during demonstrations in February.
At least 17 were killed, and thousands were injured in clashes that took place between demonstrators and security forces near the Ministry of Interior in protest of the Port Said Massacre, in which some Ahly supporters claim that security authorities were involved.
Seventy-four Ahly fans were killed on 1 February in Port Said after a football game between Ahly and Masry when supporters of the latter stormed the field.
The case was adjourned pending a list of the names of defendants in the case, since they are included in the amnesty law recently issued by President Mohamed Morsy.
Morsy had issued an amnesty decree for those charged with crimes related to protesting during and after the 25 January revolution, until he was named president on 30 June 2012.
The defense said that Article 2 of the amnesty decree states that the public prosecutor or the military prosecutor must provide a list of the names of those included in the decree.
The defense added that the defendants did not commit any of the crimes they are accused of, describing the alleged crimes as "absurd and ridiculous."
The defense had asked in the previous session to summon media personalities Lamis al-Hadidi and Khairy Ramadan to hear their testimony on why they announced the burning of the Real Estate Tax Authority building four hours before the fire started, adding that they might know the real culprits behind the fire.
Edited translation from Al-Masry Al-Youm