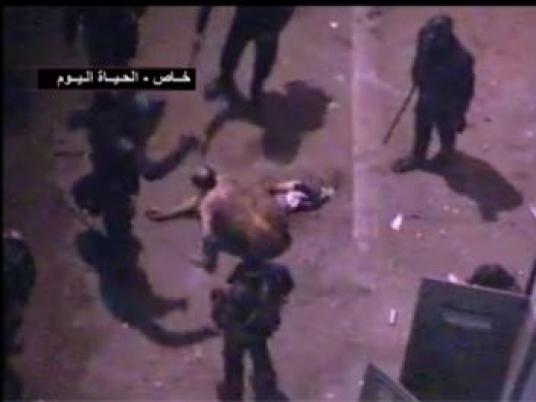 The Interior Ministry said Friday evening that it regrets the stripping and beating of a protester earlier in the day during clashes in front of Ettehadiya Palace.
Security forces dragged the protester through the streets, stripped him naked and beat him with batons before forcing him into an armored vehicle. The attack, which was captured by Al-Hayat satellite channel TV cameras, came amid clashes between security forces and opponents of President Mohamed Morsy's rule in front of the palace.
In a press statement, the ministry described the incident as an "individual act" that does not represent police or security forces on the whole, describing them as making every effort "to protect the nation's security and stability, and sacrifice their lives for the security of the citizen."
The statement added that an investigation is underway and that it would announce its findings to the public.
The ministry also claimed that it would not cover up any mistakes, and said that its role was to protect human rights and freedom after the 25 January revolution.
Edited translation from Al-Masry Al-Youm