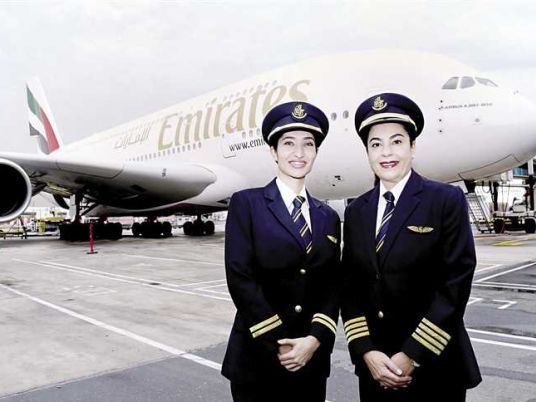 Among the fields in which Egyptian women have achieved significant breakthroughs is civil aviation, starting in 1933, when Egyptian aviator Latifa al-Nady became the first Arab, or African, woman to earn a pilot's license, as well as being the second woman ever to do so.
Latifa was the first woman to fly a plane on her own in the skies of Cairo.
The first female managing director of the Egyptian Aviation Academy, located in Imbaba, was Captain Aziza Muharram. She was also the first woman to become a chief flying instructor in Egypt, according to her Facebook fan page.
Breaking records was EgyptAir flight attendant Eva Karam who achieved a record number of flying hours in her time. Naeema al-Kayal was the first Egyptian woman to head a crew of flight attendants. Another flight attendant, Dalal Naweya, was the mother of international squash players Ramy and Hesham Ashour.
Shadya Salama was a flight attendant on a hijacked Egyptian plane that landed in Malta airport in 1985. In a show of bravery, she acted as a mediator between the the hijackers and the airport officials.
During the mediation process, Salama had a chance to escape and not return to the plane, but she died on board after Egyptian commandos stormed the plane.
This year, Egyptian captain Nevin Darwish became the first Arab woman to fly the giant Airbus A380 from Dubai to Vienna.
"I'm honored to lead the largest commercial aircraft in the world, and also because I am the first Arab or Egyptian woman to lead an Airbus A380, thanks to the training I received from Emirates Airlines," Darwish said.
Darwish advised Egyptian women to follow their dreams and be determined to achieve their goals, saying that through diligence and and strong will nothing is impossible.
Egyptian aviator Heba Dawish studied aviation in the US and worked for EgyptAir where she gradually progressed until she led a Boeing 727-800.
Darwish is one of three female aviators currently flying EgyptAir planes, in addition to seven female co-pilots. EgyptAir has employed only 15 female pilots throughout its history.
Another female pilot who followed her passion was Hasnaa Taymour. She pushed her pharmaceutical studies aside to study at the Egyptian Aviation Academy. She was employed as a co-pilot at EgyptAir since 1995 before being promoted to pilot.
Taymour was honored by former tourism minister Zohair Garana in 2009 as the first Egyptian woman who obtained the rank of captain in EgyptAir.
"I was in the second grade in the Faculty of Pharmacy when I accidentally read an ad about the enrollment criteria at the Egyptian Aviation Academy without the gender being specified. I found out that the criteria applied to me. I consulted my father and he encouraged me to go through the academy's tests, which I successfully passed," said Taymour.
"I was admitted to the Egyptian Aviation Academy. I studied both pharmacy and aviation at the same time. But after graduation, I preferred to work in the field of aviation," she added.
Taymour, who has three children, said she is proud to belong to EgyptAir.
"When I fly a plane, I am always keen to help my company's reputation. I keep in mind the passengers' safety and apply what I was trained to do thoroughly and professionally," Taymour said.