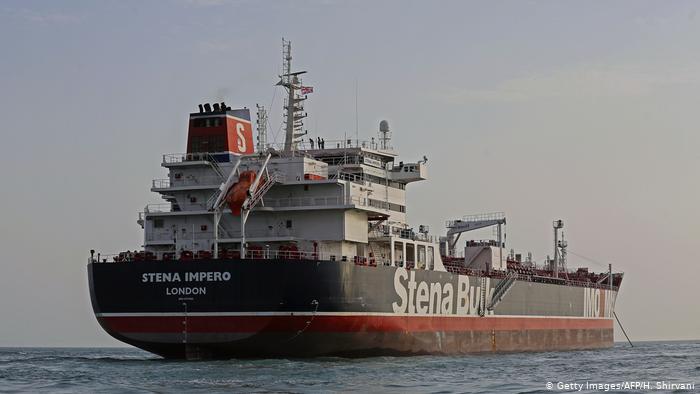 Iranian maritime officials have approved the Stena Impero, a Swedish tanker sailing under the British flag, to exit Iranian waters after detaining the vessel and its crew for more than two months.
"The legal process has finished and, based on that, the conditions for letting the oil tanker go free have been fulfilled and the oil tanker can move," said Ali Rabiei, a spokesman for the Iranian government in a news conference on Monday.
But Erik Hanell, the head of the Sweden-based shipping company Stena Bulk, which operates the tanker, told the dpa news agency that the company was,still awaiting confirmation that the tanker had left port.
The British Foreign Office was cited by Saudi-owned Al-Arabiya TV as saying the Stena Impero and its crew were still detained in Iran.
"We continued to call on Iran to immediately release the detained tanker," the Foreign Office said, according to Al-Arabiya.
Iran's Revolutionary Guards detained the tanker in the international transit passage on July 19 this year for alleged marine violations. Britain had seized an Iranian tanker near Gibraltar two weeks prior, allegedly for violating EU sanctions on Syria. That tanker was released in August.
While the vessel is free to go, the legal case against the Stena Impero is still pending.
Iran released seven of the tanker's 23 crew members from Iran's Bandar Abbas port on September 4.
The seizure of the Stena Impero in July caused international outcry, with London denouncing it as a "hostile act".
Potential motive
Releasing the tanker could be interpreted as an act of appeasement in the lead up to Iranian President Hassan Rouhani's trip to New York on Monday for the UN General Assembly.
Tensions between the US and Iran have flared several times since May 2018, when US President Donald Trump abandoned a 2015 nuclear deal and reimposed sanctions on the Middle Eastern power. The US blames Iran for the September 14 attack on Saudi Arabian oil refineries that wiped out 5% of the global oil supply. Iran denies responsibility.
Read more: US backs Saudi 'right to defend itself,' Iran warns of 'all-out war'
In New York, Rouhani was expected to present plans for an Iranian-led coalition of Persian Gulf states designed to "guarantee the region's security."
kp/ng (AFP, AP, Reuters)