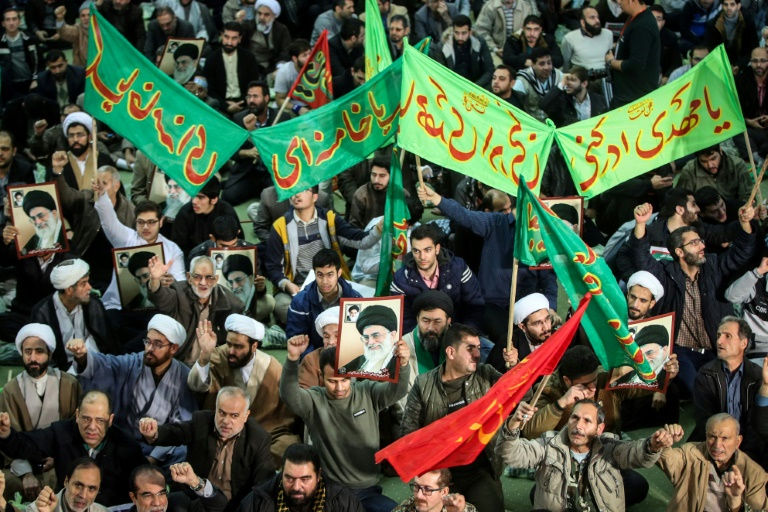 State media broadcast live footage showing large crowds waving Iranian flags and holding placards supporting Iran's government on Wednesday.
The show of strength comes after a week of anti-regime protests that have resulted in at least 21 deaths and over 450 arrests. The unrest was initially triggered by discontent over the republic's weak economy, but soon transformed into a broader outpouring of anger against the leadership.
State TV said pro-government rallies were underway in at least 10 cities, including Ahvaz, Kermanshah and Gorgan, where supporters held pictures of Supreme Leader Ayatollah Ali Khamenei and chanted slogans such as "Leader, we are ready," and "Down with the USA."
Iran blames 'enemies'
In a speech on Tuesday, Khamenei spoke publicly about the crisis for the first time and blamed foreign "enemies" for inciting the demonstrations.
"Look at the recent days' incidents," Khamenei said. "All those who are at odds with the Islamic Republic have utilized various means, including money, weapons, politics and (the) intelligence apparatus, to create problems."
While he mentioned no specific state by name, it's likely some of his criticism was aimed at the United States. US President Donald Trump has repeatedly tweeted his support for the protesters in recent days, praising them for acting against a "brutal and corrupt" regime. The US ambassador to the UN, Nikki Haley, has also called for emergency UN talks to discuss the situation.
"The people of Iran are crying out for freedom," she said at a news conference. "All freedom-loving people must stand with their cause."
Protests continue
In a bid to quell the unrest, the Iranian government has blocked access to messaging service Telegram and photo-sharing app Instagram, which is owned by Facebook. The head of Tehran's Revolutionary Court has also warned that arrested protesters could potentially face the death penalty for waging war against God.
According to unverified reports on social media, anti-government protests continued overnight into Wednesday in the capital Tehran and other cities.
The protests — the largest seen in Iran since its disputed election in 2009 — began on December 28 in Mashhad and have since spread across the country.
Iranian President Hassan Rouhani was elected in 2013 on a pledge to mend the economy and ease social tensions. But high living costs and a youth unemployment rate approaching 30 percent have prompted angry calls for faster progress.