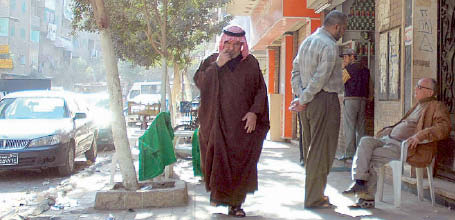 Abu Hussein, an Iraqi refugee, is reticent to speak of his experiences in Egypt — most refugees are. He regards each question suspiciously, as he sits behind the cash register in his 6th of October City restaurant.
The place was once surrounded by other Iraqi-run establishments, but they've since been taken over by Egyptians, and now Syrian refugees.
Hussein is one of the more fortunate, able to start projects and maintain a relatively decent living standard here. Many Iraqi refugees, however, have been forced to leave over the past decade, either returning to their war-torn homeland or — for a lucky few — being resettled in the West.
But Abu Hussein's good fortune has not spared him the many challenges faced by Iraqi refugees in Egypt, caused in large part by their ambiguous legal status. Ten years after the initial influx of these refugees, even those with the most comfortable living conditions are unable to establish themselves fully and truly build a new life.
While Egypt does, according to the United Nations refugee agency, UNHCR, offer a more "positive protection environment" than neighboring countries, Iraqis are unable to obtain permanent residency, which limits their access to basic services, education and job opportunities.
Though there are no exact figures for Iraqis seeking refuge in Egypt, a 2008 survey by the American University in Cairo, citing Amnesty International, placed the number at between 100,000 and 150,000, adding that, as of April that year, only 11,000 had registered with UNHCR. These estimates closely mirror estimates put forward by Egypt's Foreign Ministry the same year.
UNHCR's figures, which claim that 64 percent of Iraqis in Egypt are registered, would indicate that the total number was closer to 17,000 in 2008.
Karmen Sakhr, senior protection officer at UNHCR's Cairo office, says 7,664 Iraqis were registered with them by the end of February 2013. "It is estimated that there are bigger numbers of Iraqis living in Egypt who have their own businesses and residencies," she explains.
Refugees first began to enter Egypt in 2004 on expensive tourist visas. When the Egyptian state did not grant them residency, some began applying for UNHCR's yellow card, which allows access to services such as residence permits, education and healthcare.
One of few countries in the region to have signed the 1951 Convention relating to the Status of Refugees and its 1967 protocol, Egypt has, nevertheless, made reservations to clauses within the convention — on personal status, rationing, education and labor legislation, to name a few — that limit refugees' access to public goods and services.
In a 2011 article, Sara Sadek, a refugee researcher at the University of York, wrote that "despite restrictive measures, refugees manage to enter: In effect, officials turn a blind eye and, once within Egyptian borders, they cease being a concern for local policymakers.
"The toughest struggles that Iraqis in Egypt face relate to their legal status, which limit their mobility and their access to services," she wrote.
Refugees unable to register with the UN resort to loopholes in Egypt's laws. Many obtain residence permits by registering as investors or by enrolling their children in local schools. Those registered as investors — some even create imaginary investments — are allowed to travel to and from Egypt, but these solutions are neither easily accessible nor lasting, and do not allow for a stable life.
Abu Hussein, for one, feels he can't plan ahead. His family's future is uncertain. He is concerned for his children, who will be without visas once they complete their education. Meanwhile, those who do attempt to start up their own businesses are confronted by legal obstacles.
Fatma Idris, general coordinator of Tadamon, a nonprofit organization that supports refugees in Egypt, explains that the country's laws lay down serpentine mechanisms for foreigners seeking to start up businesses. Iraqis are forced to adopt Egyptian partners to start businesses, she says.
Refugees able to survive in the formal economic sector are few; most are concentrated in Cairo's 6th of October City. Most Iraqis in Egypt rely on savings and remittances for survival. For example, Abu Hussein came to Egypt in 2006 with his wife and school-age children with enough capital to start a new life, after selling his factory in Iraq.
Idris believes the state's reluctance to give Iraqis permanent residency is politically motivated.
"It's a political reason in essence: The Shia community in Egypt began to be more visible, and there were fears that Iraqi Shias would integrate with them and strengthen them," says Idris.
The Egyptian government, Sadek says, rejected an application made by Iraqi leaders to form an Iraqi organization. For Shia Iraqis, practicing their religion in public has also been prohibited. An attempt to build a Shia mosque in 2009 ended with the detention of its Iraqi organizers.
There are also variations in the level of government hospitality offered to refugees of different nationalities. For example, Syrians were initially allowed to enter without visas.
Idris, as well as many Iraqis in Egypt, complain that Syrians who fled to the country in the past two years enjoy better services and legal statuses than Iraqis who have been here for the past decade.
In 2006, a restrictive visa policy was introduced to limit the influx of refugees to Egypt, according to a statistical survey published by AUC. Some refugees have seen these restrictions as a sign of ungratefulness among Egyptians, writes Sadek.
"The fact that refugees are denied access to Egypt's public services and to the labor market is considered discriminatory treatment for nationals of a country that provided the same services widely for Egyptian migrants," Sadek writes.
Abdel Rahman Samir, a 24-year-old Iraqi refugee who manages a family-owned restaurant in 6th of October City with his brother, echoes this sentiment. "Egyptians in Iraq were treated as Iraqis," Samir says. "We came here and found ourselves treated as foreigners."
His shop is proudly called Sons of Iraq. Active Baathists in their previous life in Iraq, the brothers have a picture of the fallen Saddam Hussein near the cash register. "Every household in Egypt owes Iraq," he states emphatically.
Despite the refugees' complaints of state negligence, Sakhr claims the low percentage of registration with the UN reflects a successful integration.
"The relatively big number of Iraqis not registered with UNHCR is not a negative indicator. On the contrary, it reflects that Iraqis are enjoying a positive protection environment in Egypt. They feel that they don't need the international protection, possibly because of the cultural proximity and Arab solidarity," says Sakhr.
While the UNHCR's yellow card does provide certain necessary services, refugees forfeit these services if they leave the country. "For six years, I have been unable to go to Iraq to know what's happening there. I want to go to my country and get money — I can't keep having people send me money," says one elderly Iraqi woman, speaking on condition of anonymity. Like many, she moved out of Iraq when sectarian clashes intensified in 2006.
Even though she found a job in Egypt and is comfortable, she still worries she may never be able to perform Hajj in Mecca if she doesn't receive a residency allowing her to travel.
Despite being a businessman, Abu Hussein received his residence permit though UNHCR. But for three years now, he has been unable to see his eldest son, who left to pursue his studies in Russia. His son is now unable to obtain a visa to Egypt and if Abu Hussein were to leave the country, he would be unable to reopen his UNHCR file.
Iraqi refugees in Egypt are concentrated in the Cairo suburbs of 6th October City, Nasr City and Giza. Despite their geographical concentration, Iraqis don't have strong communities like other refugee groups in Egypt, says Idris.
Clashing political and professional backgrounds within the Iraqi community lead to mistrust, which has prevented the formation of a strong network in Egypt for Iraqis, who by custom are community- and family-orientated.
Despite the absence of accurate statistics for Iraqis in Egypt, Idris estimates only a fraction of Iraqis who first came to Egypt are still here. He says most of those who remain await resettlement, which can be a long process.
In 2007, UNHCR offered refugees three permanent options: resettlement, repatriation or integration into Egypt. Resettlement became the hope of many.
But "Egypt has indicated in the past that local integration is not an option for refugees on its territory," says Shaden Khallaf, a faculty member at the Center for Migration and Refugee Studies at AUC.
Khallaf says that while Egypt receives and tolerates the presence of thousands of refugees in its territory, the country's struggling economy and debilitating social conditions make it difficult for Egyptians and refugees alike.
"Many Iraqi and other refugees seek resettlement as a means of permanently turning a new leaf, starting a new phase in their lives, where their rights are guaranteed, and where they can dream of a better future for themselves and their families," she says.
These dreams are beyond the reach of most Iraqis in Egypt. But resettlement is also becoming more and more unattainable, she says, with developed countries reducing the number of refugees they accept for resettlement.
What's more, initial hopes that the revolution could improve the status of refugees in Egypt have also diminished. Shaden says many refugees have reported deteriorating conditions since the uprising started.
"Many had hoped that the revolution, which called for human rights and dignity for all, would have opened the door for more reform in terms of policies and positions towards refugees' access to social services," she says.
But refugees — the most vulnerable group in society — have been particularly badly hit, Shaden argues, by the deteriorating economic and security situation in Egypt over the past two years.
As Egypt's political fabric continues to strain against all tiers of society and doors continue to close, many Iraqis have no choice but to risk returning to their war-torn and fractured country.