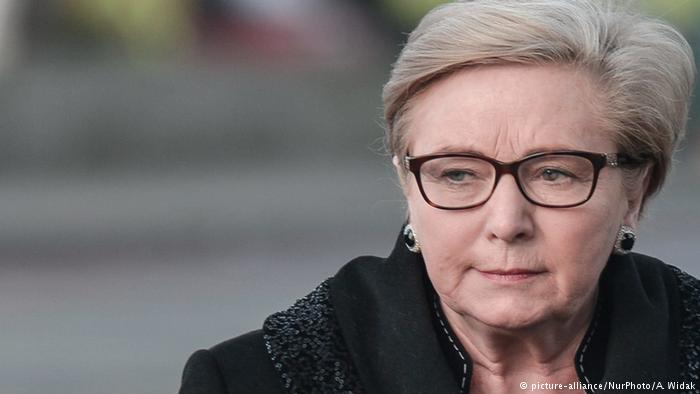 Ireland's deputy prime minister has resisted calls to resign, setting the country up for a possible snap election. The minority government faces a vote of no confidence ahead of complex Brexit negotiations.
Ireland appeared to be heading toward a snap election late Monday after Deputy Prime Minister Frances Fitzgerald (photo) refused to heed calls for her resignation ahead of a crucial no confidence vote.
Senior politicians from the Fianna Fail party, which has supported the minority government headed by Fitzgerald's party, Fine Gael, have called on Fitzgerald to step aside in response to her handling of a legal case while she was justice minister.
"I think the Tanaiste [deputy prime minister] should recognize that unless she does stand aside, she is going to force this country into an election nobody wants, that nobody needs and is not in the country's interests," Fianna Fail's Jim O'Callaghan told national broadcaster RTE on Monday.
"I don't see any other method out of this."
Ireland's legislature is set to vote on a no confidence motion against the minority government on Tuesday evening.
Irish Prime Minister Leo Varadkar, who has publicly backed his deputy, has said he will hold an election before Christmas if the motion is not withdrawn.
Alleged government conspiracy
The no confidence vote follows the publication of an email showing that Fitzgerald had known as early as May 2015 of alleged efforts by Irish police to discredit whistleblower Maurice McCabe.
McCabe had accused the police force, the Garda, of 42 cases of malpractice, harassment and corruption between 2008 and 2010.
After an independent commission was set up in 2015 to investigate the claims, Garda's legal team told Fitzgerald of its alleged strategy to undermine McCabe by reviving a discredited sexual harassment allegation against him from 2006.
Varadkar had said before the email's publication that Fitzgerald first learned about the smear campaign in 2016.
He and his deputy have since called for opposition parties to wait until January for an independent tribunal to release its findings into Garda's alleged strategy.
Brexit factor
A fresh election before Christmas could complicate Ireland's position ahead of a critical EU Brexit summit on December 14-15.
EU member states are set to decide at the meeting on whether Britain has made "sufficient progress" in ongoing negotiations over its departure from the bloc.
An affirmative decision would allow Britain to start trade negotiations with the EU, which London views as key to avoiding economic disruption following its exit in March 2019.
But Varadkar's government has remained adamant that Brexit will not lead to a hard border between the Republic of Ireland and Northern Ireland, a policy supported by Ireland's main parties.