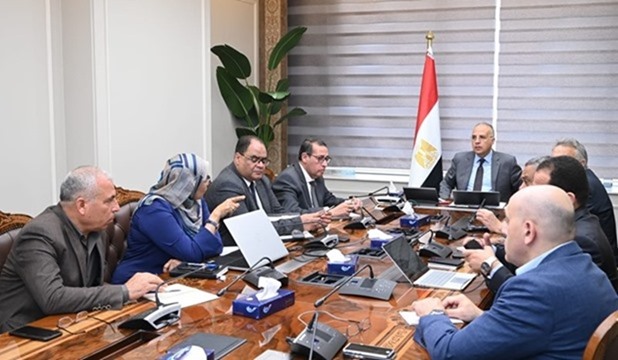 Minister of Water Resources and Irrigation Hani Sewilam asserted that the State was exerting strenuous efforts to face challenges resulting from the limited water resources as well as the negative impact of climate change by implementing several major projects in the agriculture sector.
The minister's remarks were made during his meeting with a number of ministry officials to follow up on the executive status of projects to re-use agriculture waste water in the areas of Bahr El Baqar, El Hamam and Al Mahsama.
The Bahr al-Baqar waste water treatment plant located in northwest Egypt is one of the largest in the world, with a treatment capacity of 5 millions m3/d and the largest in Africa.
The plant comprises four water treatment lines with a daily processing capacity of 1,250,000 cubic metres each. It is the largest in Africa and one of the biggest in the world.
Sewilam said the projects aim at reclaiming new areas of lands based on the use of recycled agricultural waste water as part of the State's policy to rationalize the use of water and recycle it.
He also reviewed the progress achieved in the agricultural waste water plant in El Hamam area with a capacity of 7.5 million m3/d. Fifty-five percent of the project has been completed to be the largest of its type in the world and the treated water will irrigate up to 2,266,000 acres west of the Nile Delta area. The plant will comprise 12 pumping stations and will receive the wastewater gathered in the north of Delta from the agricultural drainage, through digging a 174 kilometers pathway.