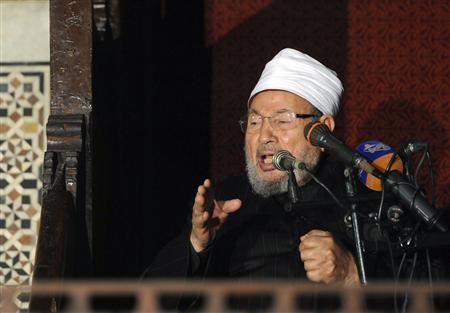 A group of Islamist scholars criticized Egypt on Monday for seeking an Interpol arrest warrant for their leader, a Qatar-based cleric whose outspoken support for the Muslim Brotherhood contributed to a diplomatic rift between Gulf Arab states.
Interpol this month issued a Red Notice alert for Sheikh Youssef al-Qaradawi in connection with several alleged offences including murder, arson, vandalism and theft. It said it was acting at the behest of Egyptian authorities.
The Egyptian-born cleric, whose religious shows Al Jazeera television were watched by millions until they ended earlier this year, has been critical of Egypt's military-backed government, accusing President Abdel Fatah al-Sisi of betrayal for ousting Islamist president Mohamed Mursi last year.
In a statement, the International Union of Muslim Scholars, which Qaradawi heads, demanded the alert be removed rapidly.
"We as scientists and scholars and all Muslims were surprised at the listing of Sheikh Youssef al-Qaradawi's name in the list of Interpol's most-wanted internationally, at the request of the coup authorities in Egypt," it said.
The statement described Qaradawi's views as "moderate" and said international judicial authorities should have been aware of "the real criminals, who loot and steal and kill and burn their own people, and finance falsehood, and the world knows them all".
It did not elaborate, but Egyptian Islamists usually use such language to refer to Sisi's government.
In Egypt, where the Muslim Brotherhood has been classified as a terrorist organization, authorities have called for Qaradawi's arrest and trial for the offences listed in the Interpol notice. Qaradawi denies involvement in any such crimes.
Earlier this year, Qaradawi's outspoken support for the Brotherhood helped lead to an unprecedented diplomatic rift between Qatar and some other Gulf Arab states who consider the group a security threat and supported Mursi's overthrow.
Since then, Qaradawi has refrained from delivering Friday sermons. But this has not stopped him from criticizing Egypt's rulers during conferences or by statements often sent by email.