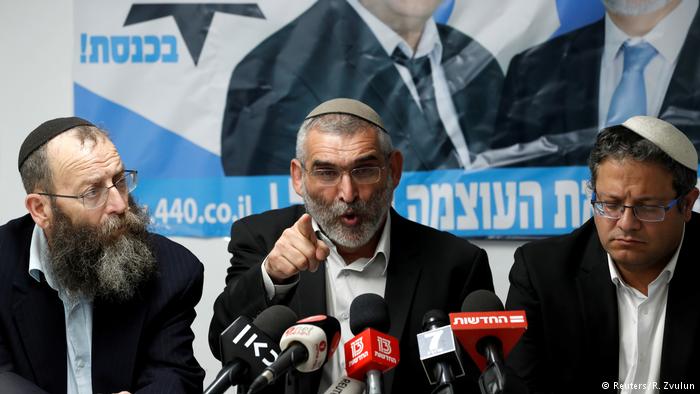 Israel's highest court voted on Sunday to ban Michael Ben Ari from running in the country's April 9 general election. The leader of the Jewish Power party was disqualified in an 8-1 vote because of his anti-Arab ideology.
Ben-Ari had been approved by Israel's election committee to run, but the opposition left-wing Meretz party successfully appealed the decision to the Supreme Court.
'Incitement to racism'
The country's attorney general, who shares the Court's sentiment, had accused Ben-Ari of "inciting on an ethnic-nationalistic basis against the Arab population" and "calling for a violent renunciation of the Arab population's rights."
The American Jewish Committee (AJC) welcomed the Court's decision to prevent the Jewish Power leader from running in the upcoming election.
"The party and its leadership seek to undermine the ideals of democracy, equality, and peace on which the State of Israel was founded. They have no place in the Knesset," Avi Mayer, Assistant Executive Director of the AJC, told DW.
Jewish Power is part of an election alliance with Israel's right-wing governing party, Likud, which Prime Minister Benjamin Netanyahu hopes will help secure him a record fifth term.
Read more: Netanyahu challengers form alliance
Arab party ban reversed
The court meanwhile approved the candidacy of Raam-Balad, an alliance of Arab nationalists and Islamists, which is highly critical of Israeli policies.
Israel has in the past prosecuted two Balad figures for contacts with Palestinian militants and accused a former party leader of helping Hezbollah during the 2006 Lebanon war.
Not Kosher
Israel's far-right justice minister, Ayelet Shaked, slammed the Supreme Court rulings.
"Disqualifying Ben-Ari and approving the parties which support terrorism is a flagrant intervention against the heart of Israeli democracy," she said.
Former defence minister Avidgdor Liberman accused the Court of giving a "kosher stamp" to those who "incite to violence and support terror."
War of words
"Terrorist, your place is not here," Jewish Power's Itamar Ben-Gvir yelled as he stood eyeball to eyeball with Ata Abu Medeghem of Raam-Balad in the corridors of the Supreme Court building.
"You're just racist trash," Abu Medeghem retorted while TV news crews recorded the altercation.
kw/aw (AP, AFP, dpa, Reuters)