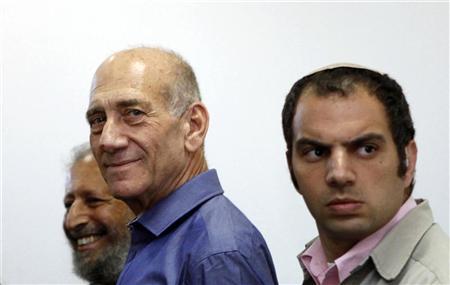 A Tel Aviv court on Tuesday sentenced Israeli ex-premier Ehud Olmert to six years in prison for accepting bribes linked to a major property development in Jerusalem, media reports said.
Broadcasting live from the court, Israel's main radio stations said Judge David Rosen handed Olmert six years of jail time and a fine of a million shekels ($290,000/210,000 euros) over his involvement in one of the country's worst-ever corruption scandals.
The 68-year-old, who was convicted six weeks ago on two charges of taking bribes, is the first former prime minister of Israel to face jail time for corruption.
"He held the most important and central position and ended up convicted of contemptible crimes," the judge said in passing the sentence.
"A public official who accepts bribes is tantamount to a traitor," he said.
Following a two-year trial, Olmert was convicted on March 31 of bribes to the tune of 560,000 shekels (now $160,000/116,000 euros) with the judge also saying he had committed perjury.
The trial, which included 16 defendants and took place over two years, was linked to the construction of Jerusalem's massive Holyland residential complex when Olmert served as the city's mayor.
In 2010, Olmert was named the key suspect in the so-called Holyland affair on suspicion he received hundreds of thousands of shekels for helping developers get the construction project past various legal and planning obstacles.
The towering construction project, which dominates the city's skyline, is seen as a major blot on the landscape and widely reviled as a symbol of high-level corruption.
– 'Not a regular criminal' –
Wearing a royal blue shirt and khaki chinos, Olmert looked tired and subdued as he entered the court room.
Rosen described Olmert as "very smart" and "personable" but said he and a fellow city official also convicted of receiving bribes had worked to "line their own pockets" were "not regular criminals".
Olmert was fifth in line to be sentenced, with three earlier defendants convicted of giving bribes, receiving lower sentences than demanded by the prosecution.
But the city's former engineer, who like Olmert accepted bribes, was handed seven years of jail time.
In July 2012, a Jerusalem court found Olmert guilty of breach of trust but cleared him on two more serious charges related to the alleged receipt of cash-stuffed envelopes and multiple billing for trips abroad.
He was fined $19,000 and given a suspended jail sentence for graft.
The conviction related to favours that Olmert granted a former colleague while serving as trade and industry minister.
The Haifa-born politician was mayor of Jerusalem from 1993 to 2003, after which he served as a cabinet minister, holding the trade and industry portfolio as well as several others.
He became premier in 2006, leading the centre-right Kadima party into government, but resigned in September 2008 after police recommended that he be indicted in several graft cases.