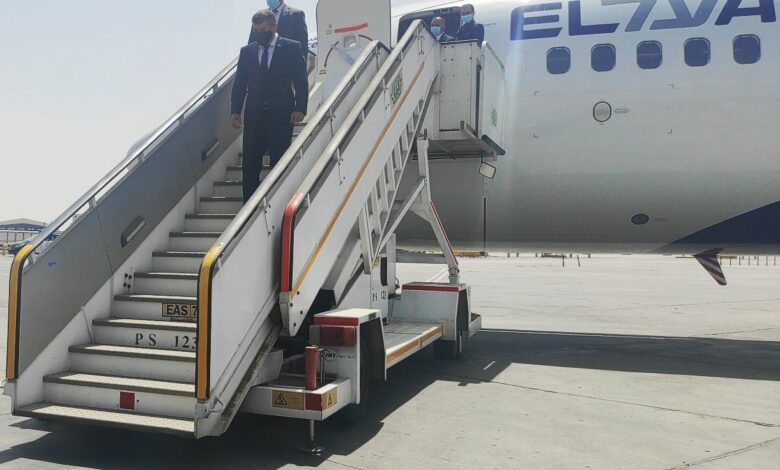 Isreali Minster of Foreign Affairs Gabi Ashkenazi arrived at the Cairo International Airport to meet his Egyptian counterpart – in the first visit of an Israeli foreign minister to Egypt in 13 years.
Upon his arrival to Cairo Ashkenazi personally thanked Egypt's Minister of Foreign Affairs Sameh Shoukry, and said that "During this visit, we will hold a number of meetings to discuss bilateral issues to strengthen economic and trade relations, and go into the mechanisms of peace in Gaza and rebuilding the sector under international supervision."
"During the talks, I will focus on Israel's commitment, above all considerations, on the return of our soldiers and citizens who are in the grip of Hamas," he added.
Egypt's Foreign Ministry spokesman Ahmed Hafez explained that the visit is part of Egypt's efforts with the Palestinian and Israeli sides to maintain a ceasefire between Israel and the Gaza Strip.
The two ministers also discussed ways to facilitate the urgent reconstruction of the Gaza Strip. They also agreed to continue consultations between the two countries and the Palestinian National Authority to discuss how to get out of the current peace stalemate.
Hafez said that Shoukry stressed during the meeting that the ceasefire must be built on by preventing any tension and escalation of confrontations, especially in the Palestinian territories, with special need regarding the sensitivity associated with East Jerusalem, the al-Aqsa Mosque, and all Islamic and Christian holy places.
Shoukry further emphasized the importance of making further efforts to maintain calm, providing the necessary conditions to create a favorable atmosphere towards political peace while launching constructive negotiations between the two sides.
The Foreign Minister affirmed Egypt's steadfast position in that reaching a two-state solution is the only way to achieve lasting peace, security and stability in the region.
He also affirmed the right of the Palestinian people to self-determination through the establishment of their independent state, with East Jerusalem as its capital, on the line drawn in June 4, 1967 based on all relevant international references.
Shoukry noted that Cairo will continue working with all concerned parties to achieve this goal.