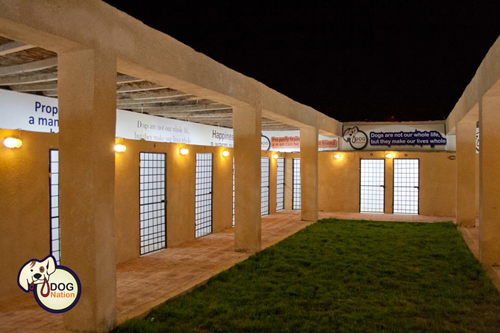 For many, a vacation away entails many complicated arrangements, from closing up the house to finding a friend to water the plants and making sure your car is safely in the garage. For pet owners, the planning takes a whole new dimension.
When Alya Barakat decided to take a trip not so long ago, she couldn't find a decent place to leave her dog Sake. When she did find accommodation, she returned only to find the dog depressed and sick. Nobody had bothered to call her.
That drove her and her three partners to open Dog Nation Kennel. Dog Nation is part of a growing trend in Egypt towards better animal treatment and care.
Located in an open space in the Orabi district off the Ismailia road, the kennel is filled with greenery and water, creating a calming atmosphere for dogs. The area is calm, and away from noise and air pollution, allowing dogs to be cared for in the comfort of the great outdoors, without worries about health hazards. In the distance, one can hear the faint noises of cows and horses in neighboring farms.
Dog Nation Kennel offers services such as a dog hotel and dog breeding, and it also facilitates hosting dogs in from overseas. "We are aiming to be an Egyptian dog-hub," says Barakat.
The kennel currently has five caregivers (the four owners and one helper) with a capacity of 30 kennels. Each kennel contains an eating bowl, drinking bowl and a towel.
Upon arrival, dogs are given a bath to remove any insects they may bring along. The dog is then left to sniff the yard and get used to the other dogs' smells, after which he or she is introduced to its box and surroundings.
"The main reason we thought of this project was because we had so many bad experiences with kennels when we were traveling. Dogs got weird diseases or lost a lot of weight, and at one point one of our dogs died of negligence," Barakat says. "We felt the kennel business in Egypt lacked actual love for the dogs and thought: Why not us?"
Barakat says dog owners fill out an application form on arrival, similar to the applications parents fill out for their children at a nursery. The form contains information on the dog's vet, an emergency contact person, the kind of food the dog eats, its vaccination record, her heat cycle (if female), and whether the dog has issues, for example, in dealing with humans, jumping fences, biting or aggressive behavior towards other dogs. If the dog catches a disease, its vet and emergency person are contacted and updated on what will be done. If neither answers, the kennel consults its own vet on treatment and starts administrating it.
Dogs left at the kennel follow a schedule to fill their days. "After sundown, the dogs are let out to play with us and other dogs for an hour. After playtime, it's feeding time. According to the dog's habits, he can have his food in his box or outside in the yard," Barakat says, describing a typical day for their canine guests. "If the dog is boarding with us for more than a week, he gets a weekly shower, similar to the one he got on entry. This shower is repeated before the dog leaves."
Dog owners are encouraged to bring along special treats, toys or blankets with their dogs to ease the transition on "the little mates," as Barakat calls them. She says they also periodically send pictures of a dog to owners and call to update them on their pet's progress.
The kennel offers two different food packages: a regular package that includes natural food and regular branded dry food such as Brit and ProSeries (based on availability), and a premium package that includes premium dry food brands such as Royal Canine or Blue Buffalo.
Dog Nation Kennel started operating in the first week of Ramadan with three guests enjoying its facilities, and a line up of others needing special attention as the Eid al-Fitr vacation approached.
This piece was originally published in Egypt Independent's weekly print edition.