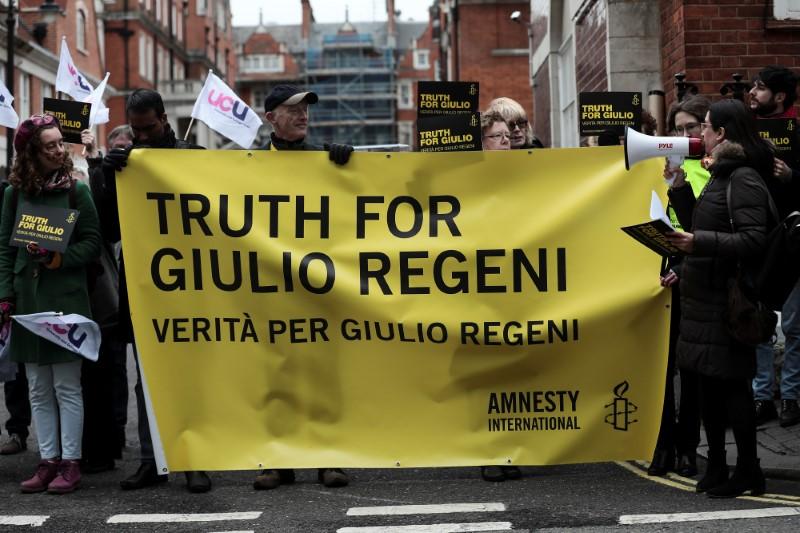 ROME (Reuters) – Italy's foreign minister summoned Egypt's ambassador on Friday and urged Cairo to respect its commitment to move quickly and bring to justice those responsible for the murder of Giulio Regeni, a statement said.
Regeni, a 28-year-old PhD student, was killed in Cairo in January 2016. Despite months of cooperation between Egyptian and Italian prosecutors, nobody has been arrested or charged over the killing.
"Minister (Enzo) Moavero expressed Italy's need to see concrete investigative developments," said the foreign ministry statement. It added that there was "strong disquiet" in Rome over the way the case was being handled.
The statement said the Egyptian ambassador had assured Moavero that Cairo's determination to "shed light on the case cannot be questioned". The envoy added that investigators in Egypt were committed to pursuing their probe "despite the difficulties encountered", the ministry said.
Egyptian and Italian prosecutors met earlier this week to discuss the state of the investigation, but judicial sources in Rome said the Cairo team failed to deliver a promised breakthrough.
Frustrated by the lack of progress, Italy will next week place under official investigation at least two members of Egypt's security forces over their alleged involvement in the disappearance of Regeni, judicial sources said on Thursday.
Egyptian officials have repeatedly denied any involvement in Regeni's death. The general prosecutor's office in Cairo said it had no comment to make beyond a statement it issued on Wednesday following the meeting between the two teams of investigators.
That statement said that the two sides had agreed that "investigations are going well" and that they would "do everything in their power to find the perpetrators".
Being placed under official investigation in Italy does not imply guilt and does not automatically lead to a trial. The two will be investigated for allegedly kidnapping Regeni.
No one is being placed under investigation at this point for torturing or killing Regeni, the sources said.
Reporting by Crispian Balmer; Editing by Steve Scherer