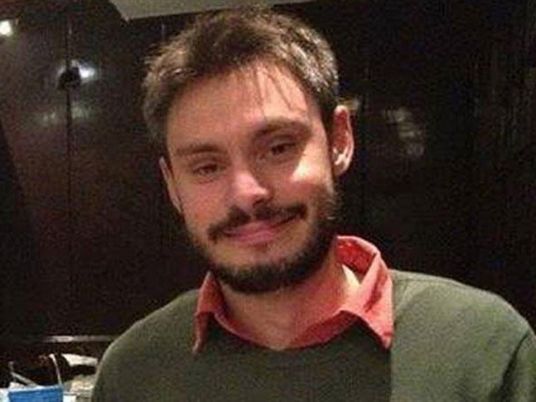 The Egyptian Public Prosecution released a statement on Monday stating that Egypt agreed to allow Italian Judicial delegation to take part in the process of retrieving the CCTV [Closed-circuit television] cameras of the Egyptian subway where the Italian student Julio Regeni was passing before being found dead in 2016.
The prosecution added in the statement "the unloading of the subway CCTV will take place on May 15, in order to reach the truth about the disappearance and killing of the Italian student on January 25, 2016." In the framework of judicial cooperation between the Egyptian Public Prosecutor's Office and Italy in the investigation into the kidnapping and killing of Regeni in Cairo.
The statement pointed out that during a recent telephone conversation between Attorney General of Egypt Nabil Sadek and his Italian counterpart Giuseppe Beniatoni, both discussed the latest updates on the investigations conducted by the Public Prosecutor's Office in Egypt in order to reach a conclusive conclusion about Regeni's murder case.
The statement added: "During the call, the Attorney General of Egypt called on his Italian counterpart to send a representative of the prosecution of Rome to Cairo to attend the retrieval of recordings subway stations' CCTV, which is scheduled to begin on May 15 in Cairo with the assistance of a foreign expert".
Regeni, a 28-year-old Cambridge University PhD candidate, disappeared on January 25, 2016 in central Cairo as police came out in full force in anticipation of protests. His body, bearing signs of torture, was found later along the side of the Cairo-Alexandria Desert Road.
Regeni was researching street vendor trade unions, Egypt has forcefully denied that its police were involved in his abduction as many reports claimed that the Egyptian authorities were responsible on targeting Regeni due to the researches he was conducting.
Police officials at first suggested Regeni might have died in a road accident. The Egyptian police issued scant information about their investigation. An Italian autopsy showed that Regeni's body was covered with cuts and his bones were broken, indicating he had been hit with "fists, batons and hammers".
Egypt has pledged to bring Regeni's killers to justice, and Egyptian and Italian investigators have held regular meetings in Rome. Italian officials stated that they have received all the requested evidence such as phone records but more than two years after, Regini's murder real perpetrators are still unknown.