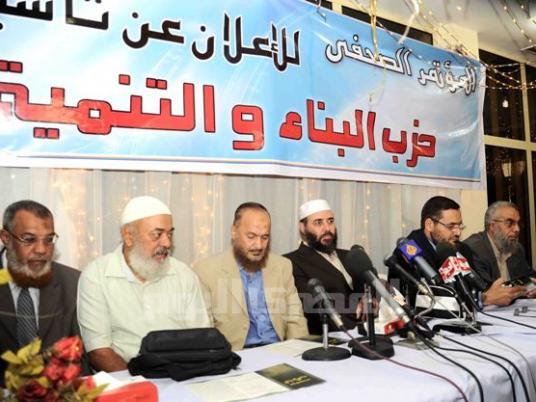 Jama'a al-Islamiya said it might break off its alliance with the Muslim Brotherhood's Freedom and Justice Party after President Mohamed Morsy ignored them in his recent appointments to the presidential team and in the gubernatorial shuffle.
Safwat Abdel Ghany, head of the political office for Jama'a al-Islamiya's Construction and Development Party, told London-based Asharq al-Awsat on Sunday that his party "will have to run alone in the upcoming election" one day after Essam Derbala, the head of the group's Shura Council, intensified his criticism of the Brotherhood.
"The Construction and Development Party will run alone in the parliamentary election after it was recently ignored by the FJP," said Abdel Ghany, adding that none of the party's members were appointed as governors or presidential advisers even though the party proposed some names.
Jama'a al-Islamiya was angered by the fact that it was not even considered in appointments to the National Human Rights Council, despite the fact that "it was the faction persecuted most by the former regime, with 30,000 of its members having been arrested and 200 of them having died in prison due to torture and diseases."
He said that he rejects double standards and the hegemony of a single faction over authority, adding that one of the goals of the 25 January revolution was to allow for genuine political participation.
At a popular rally in Assiut on Friday, Derbala said he would not allow the Brotherhood to hegemonize the state.
Nearly two-thirds of posts in the presidential team appointed by Morsy are held by Islamists, either independent or affiliated with the Muslim Brotherhood and the Salafi-oriented Nour Party. Morsy appointed 10 new governors, of whom four are affiliated with the Brotherhood, three are retired military generals and five are academics.
Following the recent reshuffle, Islamist figures make up roughly one-third of the NCHR, including independents, Brotherhood members and Nour Party members.
Edited translation from Al-Masry Al-Youm