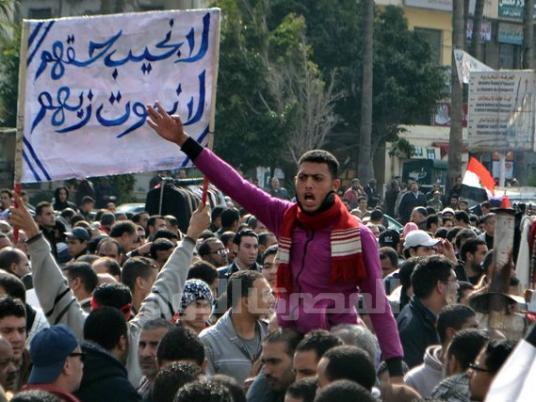 Jama'a al-Islamiya and a number of prominent Islamist figures on Thursday sharply attacked calls for civil disobedience to take place on 11 February.
The moderate Islamist Wasat Party has also retreated from a previous announcement it would participate.
A number of revolutionary organizations have called for Egyptians to engage in mass acts of civil disobedience and a general strike beginning on 11 February, the date on which former President Hosni Mubarak resigned from office last year.
"Disobedience risks destroying what is left of Egypt's economy… and increases security tension and acts of hooliganism and looting," Jama'a al-Islamiya said in a statement Thursday.
The Islamist group added: "The Egyptian economy is weakening more and more each day. Security forces desperately need to regain their strength, and no one will respond to these disastrous calls [for civil disobedience]."
"These strikes should only be resorted to if there is imminent danger to the Egyptian people or the Supreme Council of the Armed Forces fails to hand over power on time," the statement said.
The Wasat Party also said in a statement Thursday that it will not engage in the planned civil disobedience. Such actions are unacceptable by the party's normal protest standards, the statement read, as disruptions to hospitals, transportation and other government services will seriously damage the lives of citizens.
Islamic scholar Omar Abdel Kafy issued a fatwa saying that anyone who participates in the strike or civil disobedience is "sinning," as the strikes will disrupt Egypt's national interests and its economy.
In a telephone interview on Egypt's Sada al-Balad TV channel on Tuesday, Abdel Kafy said Egypt's economic situation needs production to flourish, rather than be halted. In a statement published in Al-Shorouk newspaper, he said Egypt is now standing at a crossroads.
Sheikh Hafez Salama, a popular veteran of the October 1973 war with Israel, said he rejects calls for civil disobedience, in a statement published Thursday on Al-Ahram newspaper's website. He contended that it is pointless and will disrupt the wheel of production.
"Civil disobedience is not in Egypt's best interests, but in the interest of the nation's enemies," Islamist presidential hopeful Mohamed Selim al-Awa said Wednesday.
"This is not the time for civil disobedience as Egypt is going through difficult circumstances," he told a public rally in Aswan. "We should not encourage it."
Translated from Al-Masry Al-Youm