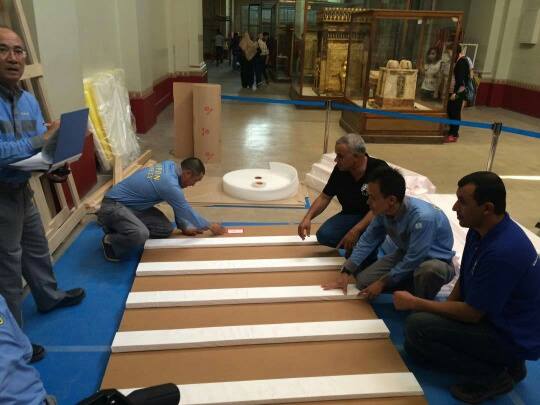 The cost of establishing the Grand Egyptian Museum exceeded US$1 billion, 75 percent of which was paid by Japanese loans to the Egyptian government, Minister of Antiquities Khaled al-Anany said.
He expected that the number of tourists to Egypt will increase after the museum's inauguration.
During the Egyptian-Japanese workshop, held on Monday at a Cairo hotel on the development of the Giza Pyramids, Anany added that Egypt seeks to take advantage of the Japanese expertise to develop the Giza Pyramids area.
Egyptologist and former Minister of Antiquities Zahi Hawass, Japanese Ambassador in Cairo Takehiro Kagawa, Minister of Tourism Yehia Rashed and Governor of Giza Kamal al-Daly attended the workshop.
He added that the role of the Japanese government is not limited only to the loan, but includes the training of employees at the Grand Egyptian Museum and other Antiquities Ministry workers.
Anany pointed out that 10 Japanese archaeological missions belonging to Japanese universities and archaeological institutes are currently operating in Egypt.
The Egyptian Antiquities Ministry is currently intensifying its efforts to complete the transfer of antiquities from the Egyptian Museum located inside Tahrir square and other archaeological locations to the Egyptian Grand Museum, which is still under construction.
The Egyptian Antiquities Ministry seeks to turn the Egyptian Grand Museum into the biggest museum in the world and also to rightly value the antiquities pieces being displayed there that are affiliated to the Pharaonic, Greek and Roman civilizations.
According to the state-run newspaper Al-Ahram, the Egyptian Grand Museum will comprise 100,000 artifacts; only 42,000 pieces have been transferred to the museum so far.
Anany stated previously that the Grand Egyptian Museum will be opened by mid-2018, adding that the total cost of the construction process of the establishment will be LE20 billion.
The Egyptian Minister of International Co-operation Sahar Nasr has also asserted that the museum will be one of the biggest museums in the world. It is expected to contribute to the development of Egypt's tourism sector, providing an international museum for the 21st century that shows the development of Egyptian civilization throughout the ages.
Edited translation from Al-Masry Al-Youm